The Neshannock Junior High has been re-designated as a Don Eichorn, "Schools to Watch" school by the National Forum to Accelerate Middle-Grades Reform. The junior high was originally designated in 2013 and re-designated in 2016.
Schools are recognized for a three year period, and at the end of three years, they must set specific goals and demonstrate progress and growth in order to be re-designated.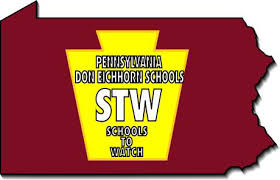 The National Forum identifies exemplary middle schools at the state and national level based on 37 set criteria. Schools that have been deemed a School to Watch have staff who work together to improve curriculum, give their students a voice in their school, reward their students for positive behavior and make continuous growth towards goals. Last November, Neshannock was visited by a STW state team that observed classrooms, and interviewed students, staff, and parents. In addition, the team analyzed achievement data, quality of lessons, and student work.
Junior High Principal Dr. Tracy McCalla said, "I love being part of the 'Schools to Watch' organization because we receive feedback on our programs from experts in the field. We are also able to take advantage of the middle level professional development offered at the local, state, and national middle level which is crucial to our growth."
Neshannock is one of 41 Schools to Watch in Pennsylvania and one of 500 to be recognized nationally. Neshannock will be recognized in February at the Pennsylvania Association for Middle Level Education (PAMLE) State Conference in Penn State. Junior High teachers Amy Clark and Jeanne Pursel were chosen by the STW state team to present information at the conference on our Makerspace and Career Exploration programs. The junior high will also be recognized nationally along with other STW schools across the country at the National Forum's Schools to Watch conference held in Washington D.C. in June, 2019.
The Schools to Watch team that visited the junior high commended the staff for their dedication to middle level programs and continuous improvement. They specifically noted the positive climate, instructional technology, new courses, and middle level best practices.
McCalla added, "I am really proud of our staff for receiving our third Schools to Watch designation. On a daily basis, I see how hard everyone works to meet the needs of all of our students, providing them with a rigorous, high-quality education."