Our debt to the heroic men and valiant women in the service of our country can never be repaid.  They have earned our undying gratitude.  America will never forget their sacrifices.  
– President Harry S. Truman
Veterans were honored throughout Neshannock Township School District.  The halls were a sea of red, white, and blue as students and teachers — Grades K-12 — proudly displayed student work, handmade flags, art work, banners, essays, photos of veterans, and thank you letters.  It was a remarkable sight to see and wonderful expression of gratitude to our veterans.  Student gratitude for veterans continued into the weekend as several student groups and individuals participated in the Annual Veterans Day Parade throughout Downtown New Castle.
The National Honor Society organized the Annual Veterans Day Appreciation Program, on November 8, 2019, at the Jr./Sr. High School. National Honor Society Treasurer Grace Beal and National Honor Society Vice President Nico Johnson served as the assembly hosts.  The Pledge of Allegiance was led by Sfc. James Monpas (US Army), SSG Eduardo Marcos (US Army), Sgt. Zachary Knowlton (USMC), Msgt. Lori DeLillo (USAF), and NHS students Ellina DeLillo, Chloe Cosgrove, Quinn Hilton, Tristan Tuck, and Autumn Pustinger.
After the Presentation of the Colors, led by Neshannock Color Guard, Pledge of Allegiance, and National Anthem, sung by Ryan Rich, Margo Silverman, and Hannah Veronesi, historical and symbolic aspects of Veterans Day were explained and student essays were read. Megan Heath presented the history of Veterans Day.  National Honor Society President Nicholas Viggiano had the honor of introducing this year's guest speaker, SSG Joshua Kauffman (US Army), NHS Class of 2012.
The program closed with the playing of "Taps" and the Retiring of the Colors.  Special thanks to all who participated — Veterans, Honor Guard, Teachers, Students, Lancer Marching Band, and Choir — for making it such a special day.  The ceremony, attended by over 700 people, was a memorable "thank you" for all those who serve and have served.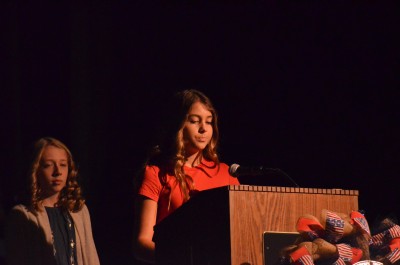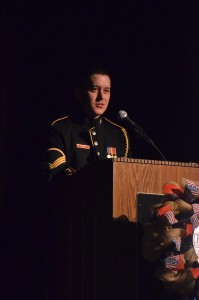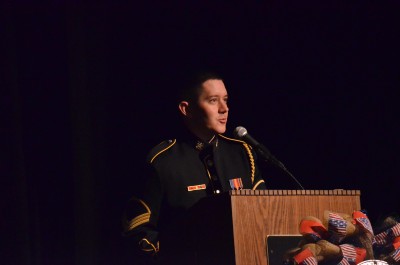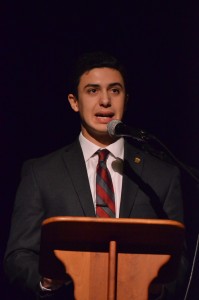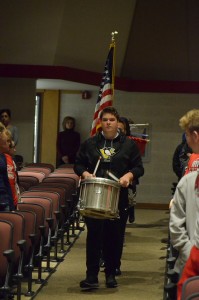 Student Participants:
Justin Banko
Grace Beal
Alexandria Bender
Samuel Bessell
Brayden Brooks
Antonia Canciello
Chloe Cosgrove
Ellina DeLillo
Jesse Fehrs
Kaitlyn Fries
Julia Germond-Loudon
Megan Heath
Quinn Hilton
Nicholas Johnson
Chloe Maalouf
Joshua Medure
Juliana Medure
Elizabeth Memo
Elena Noga
Connor Proctor
Autumn Pustinger
Ryan Rich
Philip Schaville
Margo Silverman
Tristan Tuck
Hanna Veronesi
Nicholas Viggiano