Due to the mandated school closure, the musical has been postponed until further notice.  
Neshannock High School Presents Sweet Charity
Under the direction of Mr. Michael Cavalier, Neshannock students are preparing to take to the stage for this year's musical production, Sweet Charity!  Be sure to mark your calendars!  The musical will be held on March 20, 21, and 22, 2020!
Showtimes:
Friday, March 20th – 7:30pm
Saturday, March 21st – 7:30pm
Sunday, March 22nd – 2:00pm
Admission:
Adults:  $11
Seniors:  $10
Students:  $9
Ticket Sales:
Online ticket reservations are available via the link above.  Tickets may also be purchased in the high school lobby, from 6-8pm, on March 9-12th and March 16-19th.  Additionally, tickets can be purchased on Tuesday, March 17, from 11am – 1pm, in the high school office.  Cash and checks will be accepted.
Synopsis:
A New York taxi dancer is open-hearted but unlucky in love, until she meets a strait-laced claustrophobe and nurses him through an elevator jam, in this musical adaptation of the Federico Fellini film The Nights of Cabiria. (Source)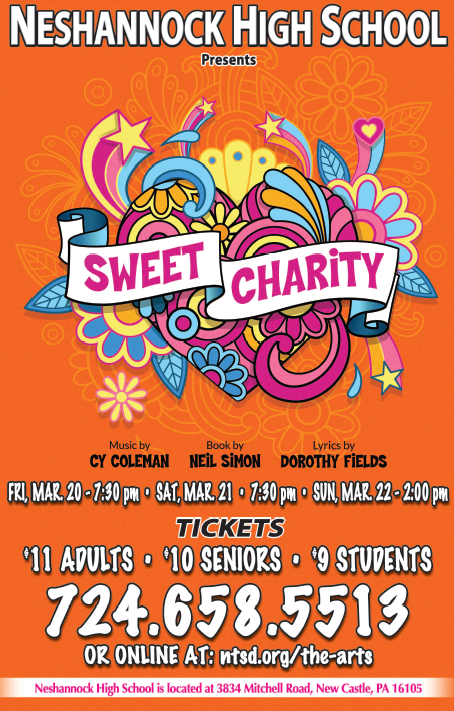 Cast of Characters:
Charity Hope Valentine – Margo Silverman
Helene – Aaliyah Smith
Nickie – Hannah Veronesi
Herman – Connor Proctor
Vittorio Vidal – Quinn Hilton
Oscar Lindquist – Ryan Rich
Daddy Brubeck – Sam Bessell
Ursula – Megan Heath
Charlie – Nick Viggiano
Male Ensemble: Brady Atwell, Sam Ball, Justin Banko, Michael Benson, Cameron Bolinger, Brayden Brooks, Shane Fee, William Flecher, Milan Fusco, Christian Golub, Nico Johnson, Joseph Lepore, Justin Lockley, Michael McVay, Sebastian Montini, Riley Novotny, Lorenzo Scarnati, Ethan Seman, Alex Shay, Nicholas Spencer, Elonzo Steffenhagen, and Timothy Wilkinson
Female Ensemble:  Kelcey Avau, Victoria Conrad, Isabella Cwynar, Olivia Cwynar, Alayna DeCarbo, Sophia Giangiuli, Mia Hasson, Kelli Huffman, Morgan Jones, Hannah Kwiat, Dani Memo, Mackenzie Moses, Martina Moses, Sophie Mundekis, Julia Razzano, Kadriye Tanyel, Alexa Vitale, Katelyn Walzer, and Rylah Watts