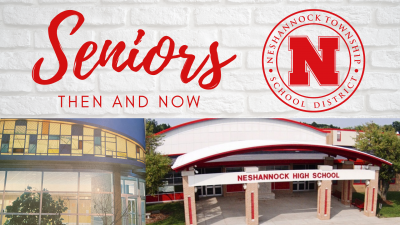 NTSD Pays Tribute to the Class of 2020
---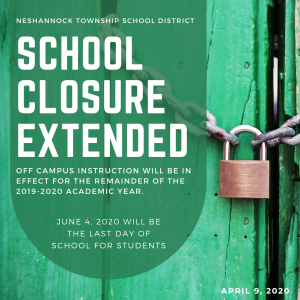 Effective April 9, 2020, Governor Tom Wolf has extended the school closure for the remainder of the year for all schools in Pennsylvania.
Off campus instruction will be in effect for the remainder of the 2019-2020 academic year. June 4, 2020 will be the last day of school for students.
Please continue to monitor our website and social media pages for updates and information.
---
NTSD Transitions to Virtual Learning
Like all schools across the nation, Neshannock Township School District was faced with the task of completely transforming instructional delivery from a brick and mortar setting to a virtual one. This transformation was a huge undertaking, and yet our administration, faculty, and staff were up for the challenge.
After the initial closure, our teachers and students were together once again on March 30th; however, our classrooms are now virtual. The doors to our school building may be closed, but teaching and learning are most definitely continuing.  We are incredibly proud of our educators for delivering the level and quality of instruction that our students not only expect, but also deserve.
---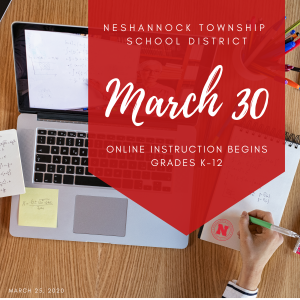 On Monday, March 30th, we began our off campus instructions for all students in Grades K-12.  We want students and caregivers to continue to be as informed as possible regarding expectations, access to District personnel, and procedures.
We know it is highly likely that unexpected issues and problems will surface during this time. As these issues arise, we thank you for your patience and understanding as we navigate our new normal during these unprecedented circumstances.  We applaud the efforts our our Technology Department as they have been dedicating endless hours to not only the teachers, but also the students and their families to ensure all instructional and learning efforts are with limited interruptions.
Please review the information below at your earliest convenience.  We are happy to be reconnecting as a learning community through the implementation of off campus instruction. Please be sure to scroll all the way to the bottom of this article to watch two YouTube videos featuring well-wishes from our faculty and staff.
Expectations for a School Day:
Be sure to complete your daily attendance check-in on each scheduled school day. 

Attendance:

K-6, look for a daily attendance assignment from your grade's Google Classroom

7-12, complete the daily attendance assignment from the Attendance and Announcements Google Classroom

Use this daily check-in as an opportunity to review announcements, class assignments, and to check email.

Parents of young students may complete the attendance form on behalf of their student(s).

We recognize that there are many factors currently affecting a student's learning environment and learning hours. With this in mind, attendance check-ins may be completed any time before midnight on each school day.

Completing Assignments:

Students are free to complete classwork at their own pace so long as assignments are submitted before posted deadlines.  Parents of younger students may determine an appropriate pace for school work throughout the day.

We know that you may be sharing your computers  with siblings and parents. Your teachers are taking great care to craft lessons that allow time for everyone in the household to share access to digital devices.

On occasion, teachers may broadcast live video streams of class lessons.  Live streams will be announced in advance with instructions for accessing the stream.   Whenever possible, live video streams will be broadcast during the time the student would normally attend the class if they were on campus.

Accessing Google Classroom:
Access to Teachers:
Teachers are available for student interaction through Google classroom and through email during each school day between the hours of 9:00am and 3:00pm.  Correspondence with teachers outside of these hours may not receive a reply until the next school day.

Teachers may schedule small group instruction time using Google Hangouts for live interaction via video or audio conferencing.
Technical Support:
If you are experiencing a problem accessing class content for a specific class, your first point of contact will always be your class teacher who can connect you with the appropriate support resources if necessary.

If you are experiencing an issue connecting to the internet or a hardware problem with any school-issued equipment, please contact the NTSD Technology Department by emailing

support@ntsd.org

or calling 724-901-1906.
Email Addresses for Principals:
Contact Principals by email with any questions or concerns.
Memorial Elementary

Junior High

Senior High
---
A Message from our Superintendent, Dr. Terence P. Meehan
---
Continuity of Instruction:
NTSD Continuity of Instruction Plan
Reminder:  For the continued safety of our students, staff, and community, no one is permitted to enter the buildings during the school closure.  All instructional materials will be provided online by the teachers.  District officials are preparing a plan to get personal belongings to students in the event that the mandated closure would extend further into the future.
Third Period Report Cards:
Accessing and Printing Student Report Cards
---
A Message from Your Lancer Family