Carson Scholars Fund Announces 2020 New and Recognized Carson Scholars
The Carson Scholars Fund would like to thank all of the students, educators, and parents who took the time to participate in the 2020 Carson Scholars Program. It is a great honor to be nominated by your school for such an award, and we applaud each and every one of you. This year's applications beautifully represented and showcased the definition of academic excellence and its many forms. Each applicant has much to be proud of. After careful review and consideration, the Carson Scholars Fund is excited to announce and congratulate the winners of the 2020 Carson Scholars Program. 
The Carson Scholars Fund awards $1,000 college scholarships to students in grades 4-11 who excel academically and are dedicated to serving their communities. Scholarship winners receive the honor of being named "Carson Scholars" and are awarded an Olympic-sized medal and a trophy for their school to celebrate their accomplishments. 
Students must attend an accredited K-12 school in the United States.  An interested student must be nominated by an educator at his or her school to be able to compete for a Carson Scholarship. Only one student from each school is able to apply, ensuring that each nominee epitomizes academic excellence. Carson Scholars must have a minimum GPA of 3.75 and display humanitarian qualities through community service. Scholarships are awarded solely on the basis of academic achievement and humanitarian qualities, without regard to financial need, ethnicity, creed or religion. (Source)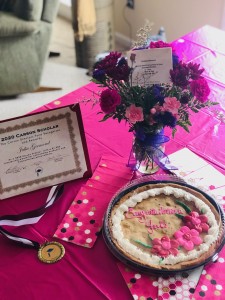 Neshannock Township School District is thoroughly pleased to announce that Julia Germond been named a 2020 Carson Scholar.  Julia, a junior, was recognized for her outstanding volunteer work within our community and excellence in education.  Due to the pandemic, an in-person celebration was unable to be held.  Julia attended the virtual awards banquet on Saturday, May 9th.
On behalf of everyone at NTSD, we are incredibly proud of Julia and her commitment to academics and volunteerism. Congratulations, Julia!