Neshannock Township School District will resume in-person instruction on Tuesday, January 19, 2021.  This plan will be effect until further notice unless COVID-19 cases within the District warrant otherwise (see chart below) and/or State or Federal government officials mandate otherwise.  In-person instruction, each school day, will be an option for all students in Grades K-12.  Virtual learning will remain an option for all students in Grades K-12 throughout the remainder of the school year.  Specific details are posted below.
It is our goal to be able to maintain in-person learning for students at all grade levels as long as possible; however, we cannot do that without the help of our community.  If you, your child, or anyone in your household is in quarantine, it is absolutely imperative that you follow all guidelines. If your child tests positive for COVID-19, or if you have any questions, please reach out to Mrs. Julie Morrone.
We remain committed to keeping all stakeholders informed in order to ensure a safe, secure environment for all.  If you have any questions, please reach out to your child's building principal:
Thank you for your continued patience, support, and commitment to mitigating the spread of COVID-19 in our community.
Dr. Terence P. Meehan
Superintendent, Neshannock Township School District
---
Junior-Senior High School
Students in Grades 7-12, alongside their parents and/or guardians, are to complete an "Instructional Format Selection" form specifying their chosen learning format — full-virtual or in-person — that will take effect on January 19, 2021.  This digital form is available on the attendance page of the Schoology Online Learning Platform.  Students and their parents/guardians are asked to submit this form no later than 3:00 pm on Wednesday, January 13 in order to ensure District personnel adequate time to prepare rosters, lesson materials, and other essential items for students.
Learning Options:
In-person instruction will provide students with daily in-person instruction, 9:53 am – 2:53 pm.

Full-virtual will continue to provide students with remote instruction that also includes pre-recorded instruction, as well as the option to participate in live sessions during each class period.

Please Note:  Hybrid instruction will no longer be an option for students in Grades 7-12.  Students have the option of attending in-person each school day or attending remotely via full-virtual instruction.  Students currently enrolled as full-time cyber students in Neshannock Online Campus (different from full-virtual) will remain cyber students; therefore, no "Instructional Format Selection" form will appear on their announcements page.
Memorial Elementary School
Parents and/or guardians of children in Grades K-6 do not need to submit any forms to the District.  Unless stated otherwise, students enrolled in in-person instruction will continue to be in-person students.  Students enrolled as full-time cyber students will continue as cyber students.
Learning Options:
In-person instruction will return students to daily in-person instruction:

Grades K-2, 8:30 am – 1:30 pm

Grades 3-6, 9:15 am – 2:15 pm

The before-school and after-school programs continue to be available. Contact snorris@ntsd.org for more information.

Temporary virtual

instruction will continue to be available via Grade Level Google Classroom Extensions for students unable to attend in-person on a given day or short-term absence — no live instruction.

Full-virtual instruction

will continue to be available through our elementary cyber school with live instruction.

Contact jflannery@ntsd.org for more information.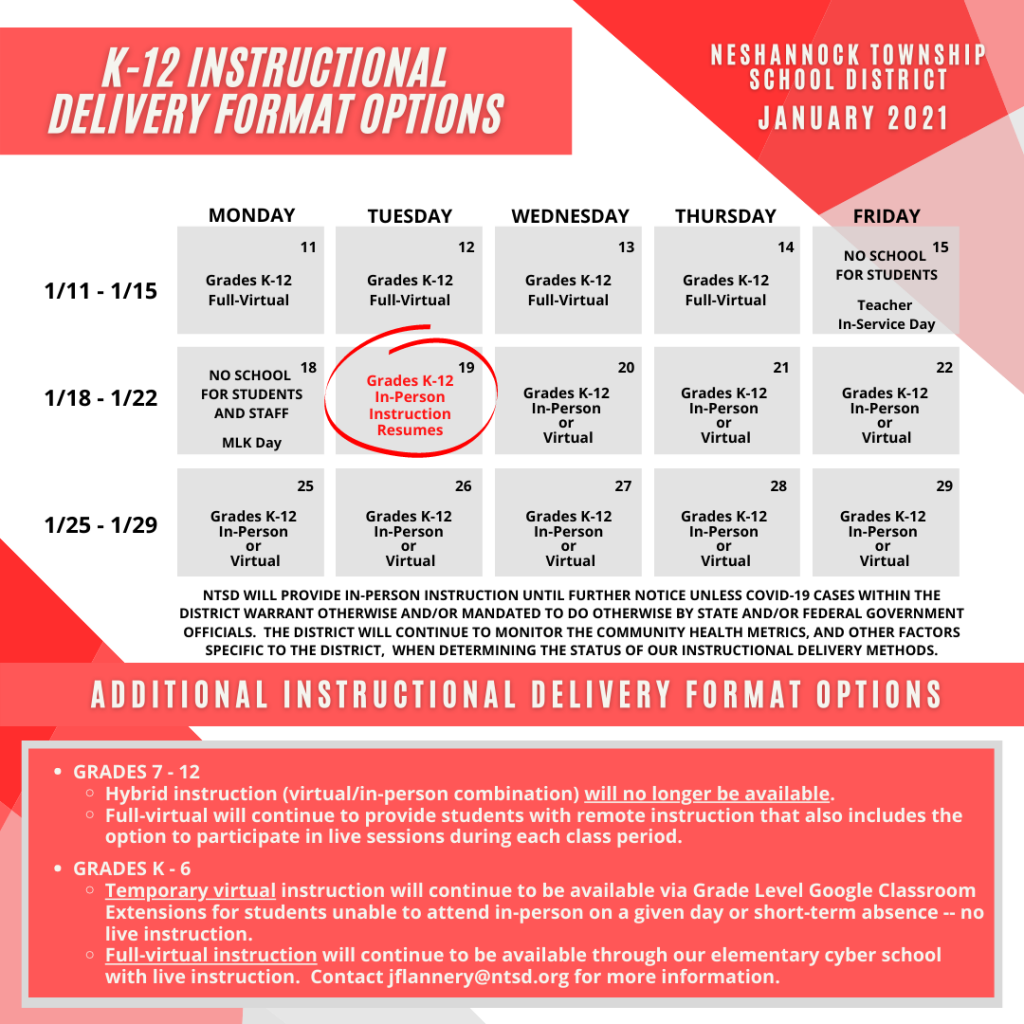 ---
Cleaning Procedures and Products
General Procedures – Health, Safety, Transportation, and Arrival/Dismissal (Grades K-12)
All individuals — students and staff — have their temperatures scanned prior to entering the building.  Student and staff temperatures are scanned through the use of walk-through, touch-free body temperature scan systems at entrances.  Handheld temperature scanners are also available at District entrances.  Plexi-glass dividers continue to be present in shared work spaces.  Bottle-filler drink stations are available throughout the building in lieu of traditional fountain-style drink stations.
In addition to increased access to Purell hand sanitizer stations, all students and staff have access to multiple Meritech Automated CleanTech® Handwashing Systems throughout the buildings.  These handwashing systems remove the variability of human behavior from the hygiene process and effectively guarantee quality hygiene.  The systems are clinically proven to remove more than 99.9% of harmful pathogens from hands in 12 seconds using 75% less water than a traditional sink.
Our maintenance department continues to sanitize and sterilize all classrooms, common areas, and school buses on a daily basis. Throughout the District we are using all Green Seal Certified products. In addition, one product has the Eco Logo designation which is USDA approved. The Green Seal certification is attained through strict analysis of the chemicals makeup and its use. This not only protects the students through the day, but also the teachers and custodians who come in contact with these products on a daily basis.
We are currently utilizing a disinfectant product that has seven capable solutions in one.  VitalOxide is used for the following:
EPA Registered hospital disinfectant cleaner
NSF Registered no rinse required food surface sanitizer
Mold and mildew killer
Allergen eliminator
Odor eliminator
HVAC antimicrobial control
Soft surface sanitizer
VitalOxide is one of the leading products in terms of safety and effectiveness.
We are also utilizing several Purell products including hand sanitizer, surface sanitizer, and disinfectant spray.
---