Senior Night
6:25 pm • Friday, October 22, 2021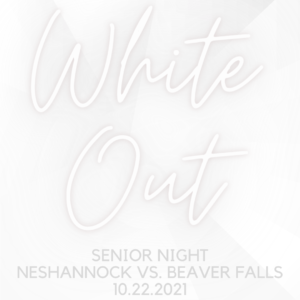 Neshannock Township School District will be will be honoring seniors participating in cheerleading, cross country, football, golf, hockey, Lancerettes, marching band, soccer, and volleyball.
The recognition will take place during pregame (approximately 6:25 pm) of the NHS vs. Beaver Falls varsity football game. Participating seniors will walk across the football field, accompanied by their parents/guardians, as the emcee announces their school activities and future plans.
Friday night will be a WHITOUT!  Don't forget to wear WHITE to the game!  Stop by the Student Government tent to get your complimentary white pom pom for the game!  Special thanks to Student Government, The Touchdown Club, NHS Band Parents, and NHS Cheer Boosters for sponsoring the purchase of whiteout pom poms!
We cannot wait to celebrate our seniors!
---
Information for Participating Seniors & Their Families:
Meet at the Student Government Tent (next to the entrance to the track) no later than 6:15 pm.
Senior Night Programs will be available for purchase — $3 each — at the tent.
Excluding football players, all seniors and their parents/guardians are to remain on the football field until the last senior is announced.
Laura Ruppersberger will be on hand to take professional photographs — optional.
Questions?  Email Mrs. Flannery or Email Miss Welker