With the excitement of the new year, also comes cautious optimism regarding the ongoing Covid-19 pandemic.  Neshannock Township School District looks forward to welcoming staff and students back to the building for continued in-person learning on January 3, 2022.
According to the CDC, Lawrence County is experiencing a high rate of transmission. The District will continue to adhere to our Guidelines for Temporary Closure as we respond to Covid-19 cases.  Should the District need to move to a full-virtual format on a temporary basis, students and families will be notified via our SchoolMessenger system – phone call and text alert – and our website, NTSD.org.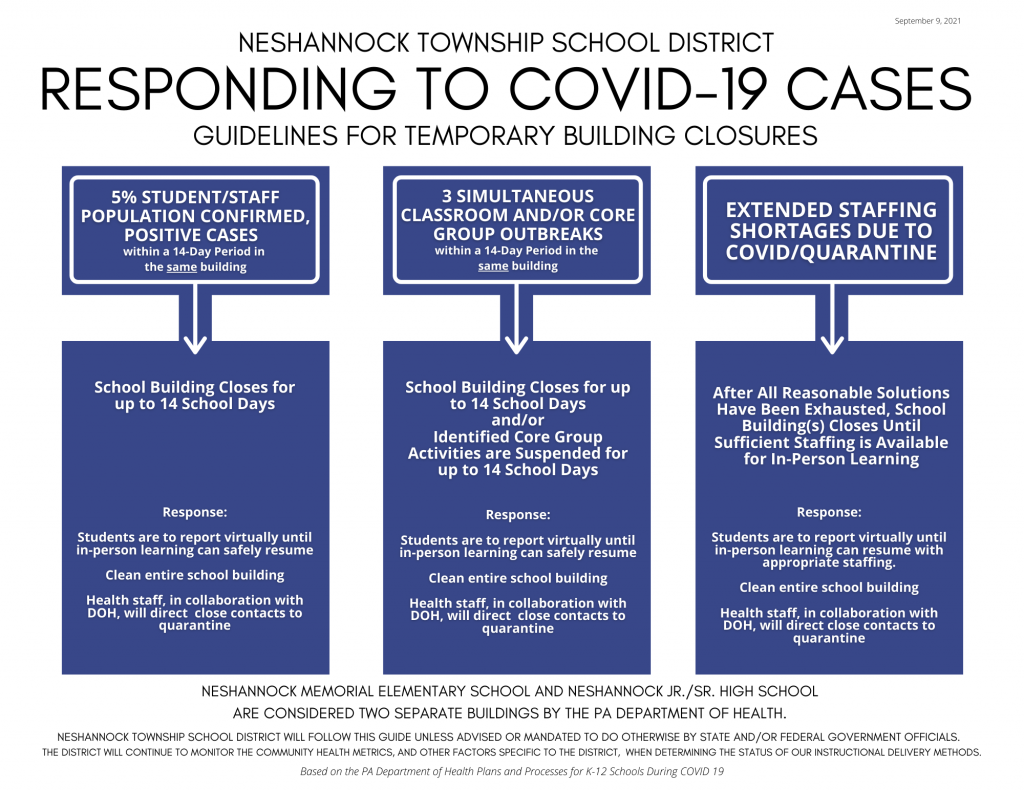 It is our goal to be able to maintain in-person learning for students at all grade levels; however, we cannot do that without the help of our community.  Please review the "When Should I Stay Home from School" and "When Can I Return to School" charts posted below.  Please do not send your child to school for in-person learning if he/she is not feeling well.
If your child is showing any symptoms related to Covid-19 or other illnesses, please take advantage of our virtual platforms.  Students feeling well enough to work from home are able to access each day's coursework on Schoology (Grades 7-12) or Google Classroom (Grades K-6) in the event of an absence from the building; therefore, their academic progress may remain uninterrupted.
We remain committed to keeping all stakeholders informed in order to ensure a safe, secure environment for all.  If you have any questions related to Covid-19, please reach out to our school nurses, Mrs. Julie Morrone (Grades 7-12) or Mrs. Heather Collins (Grades K-6).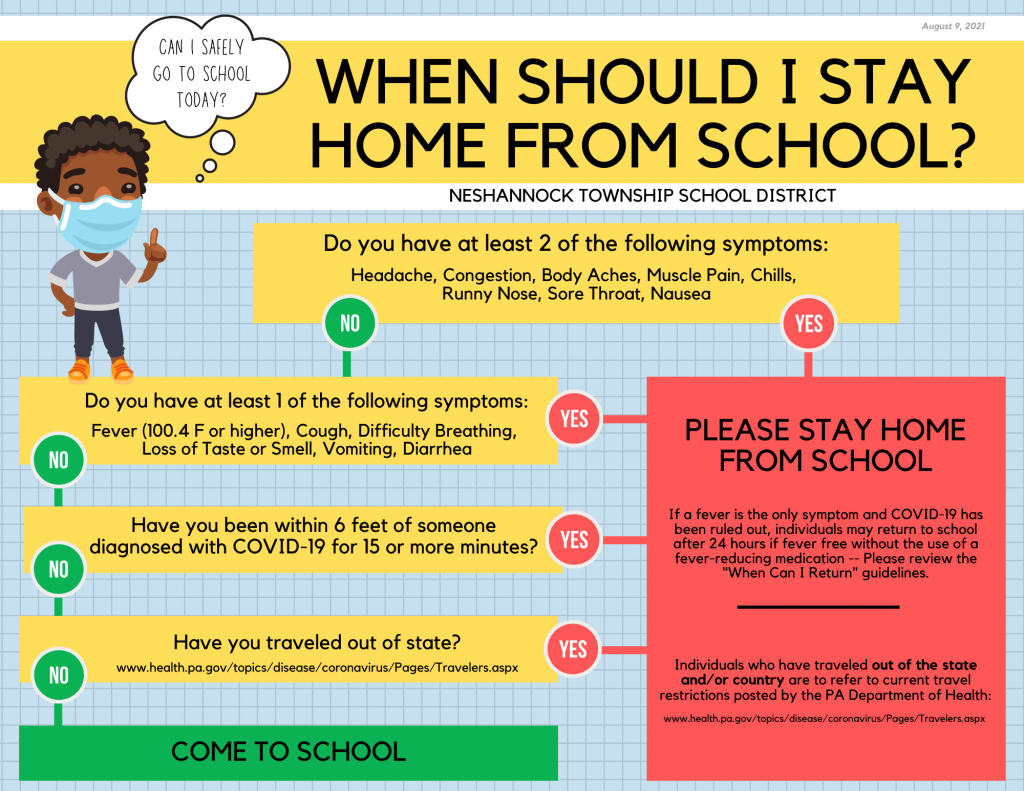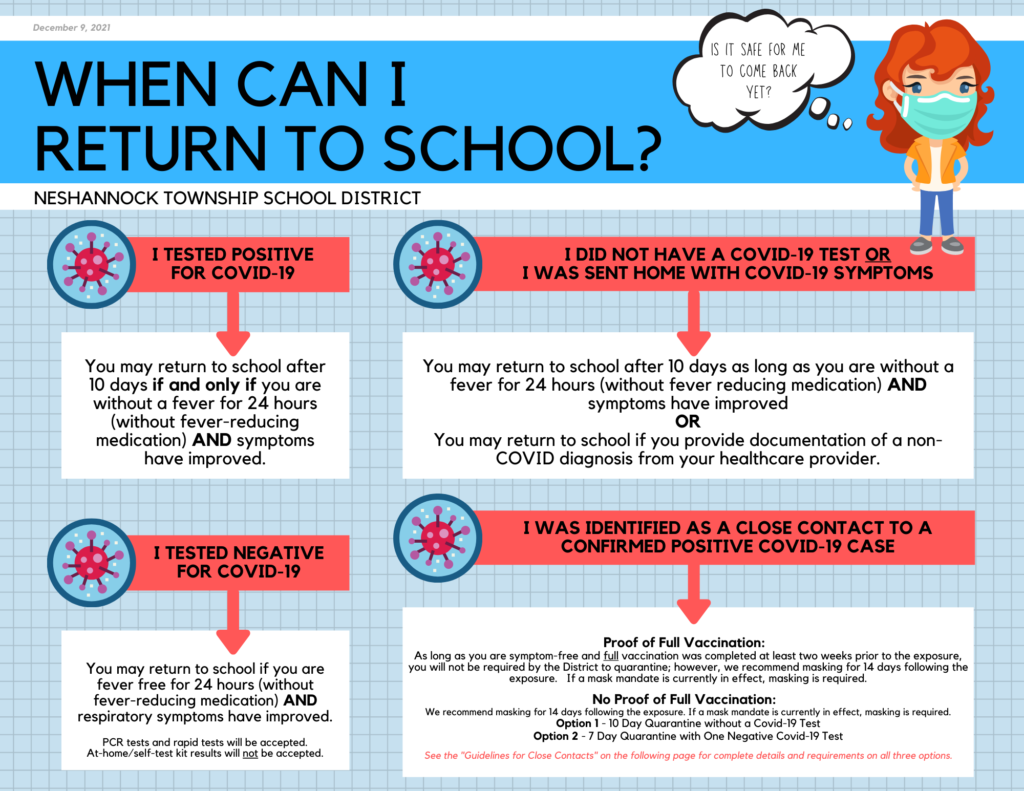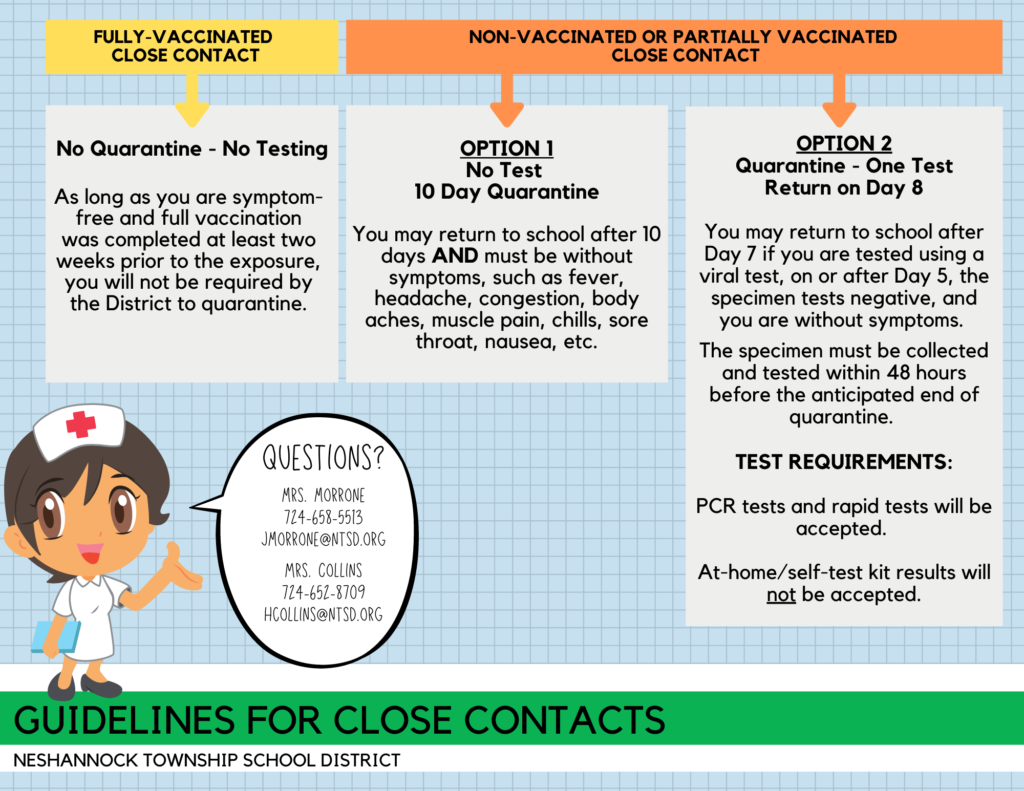 ---
Full-Virtual Format:  Frequently Asked Questions
What will my in-person student's schedule look like on full-virtual days?
All students, Grades K-12, will be able to access their coursework and submit daily attendance via the online learning platform.  Elementary students will utilize their established Google Classrooms.  Junior-Senior High students will utilize their established Schoology pages.  Any questions regarding coursework or schedules should be directed to the teacher(s).  Teachers will host live sessions at the times specified in the documents below:
Neshannock Memorial Elementary School:  Full-Virtual Schedule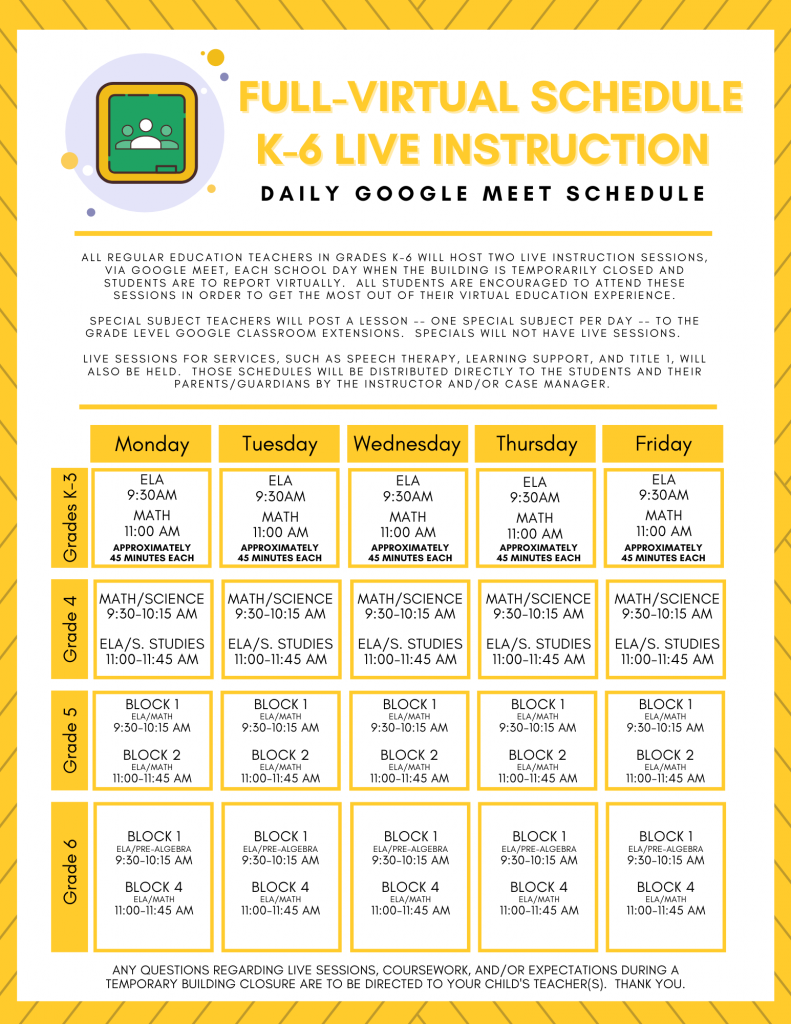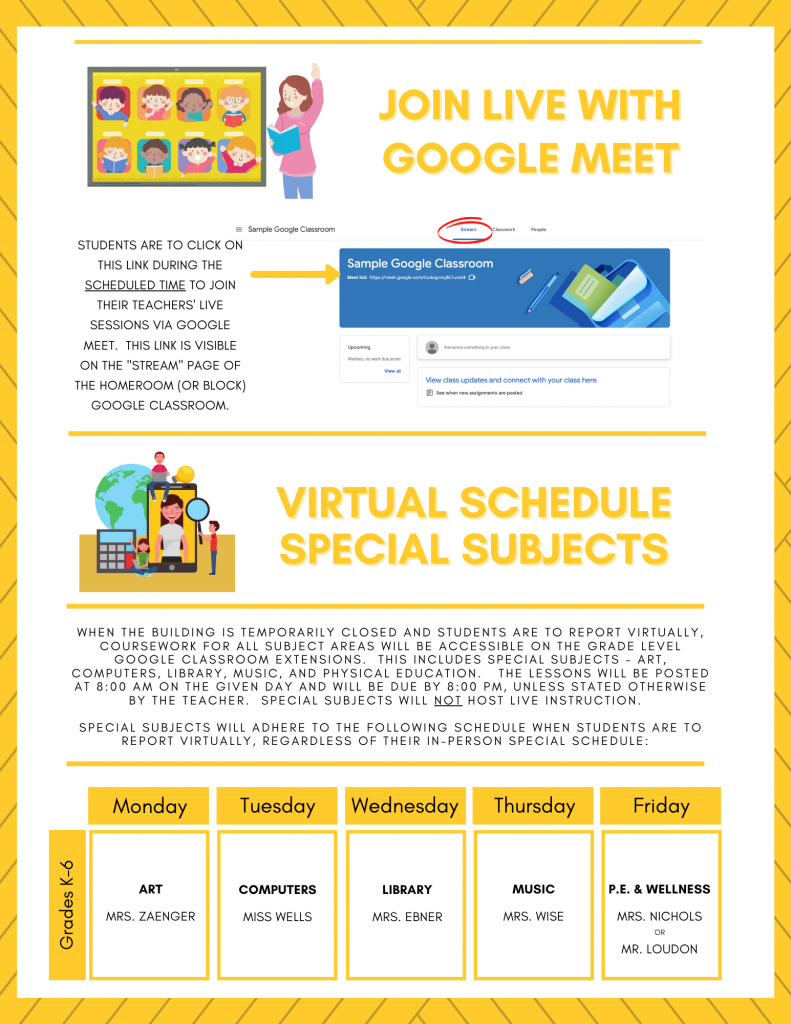 Neshannock Junior-Senior High School:  Full-Virtual Schedule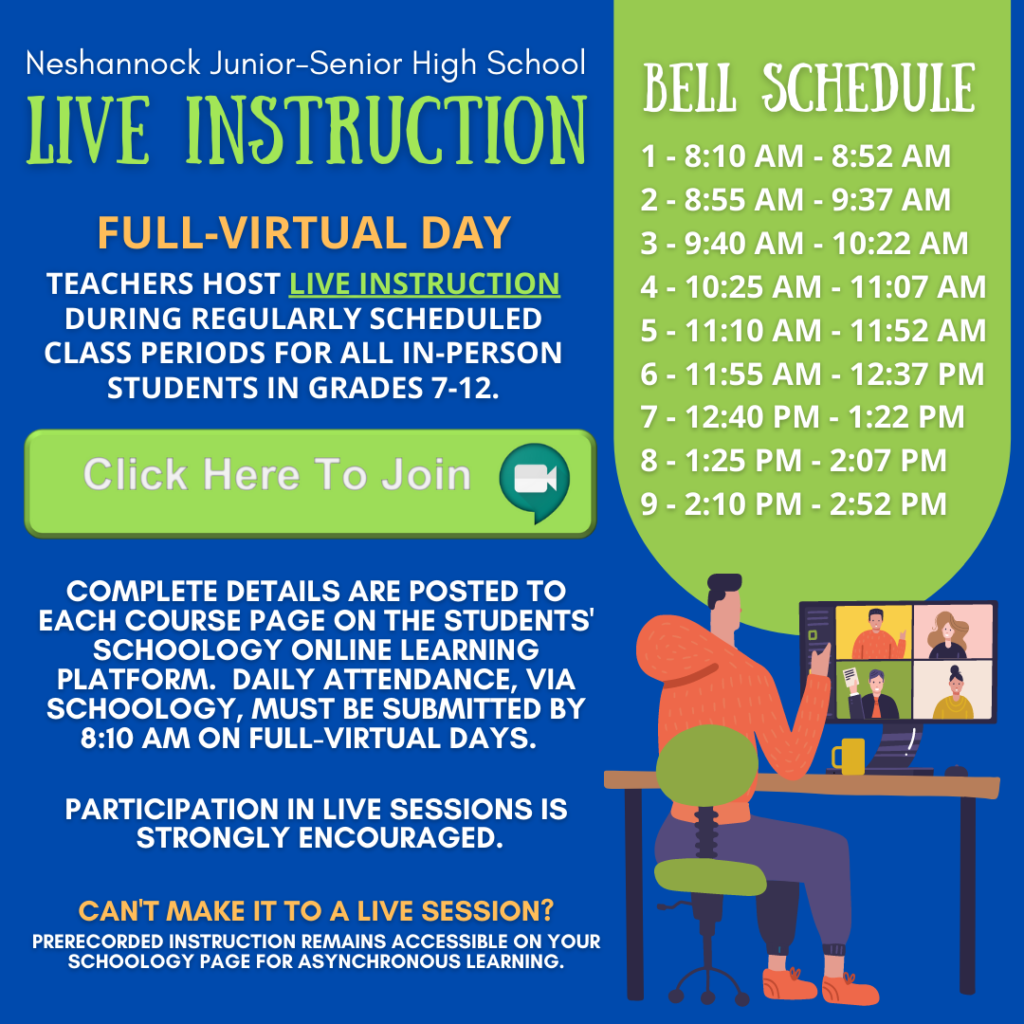 Can my child still receive free meals while learning from home on full-virtual days?
Free meal delivery is available for all students.  Please call 724-714-1261, by 9:15 am on instructional days, to request free meal delivery.  
How do I contact my child's teacher or other District personnel on full-virtual days?
All administration and faculty will continue to be available via email for communication during school hours.  If you do not already have the teacher's email address readily available, please visit our staff directory. 
My child is enrolled in Neshannock Online Campus (NOC) as a full-time cyber student.  Will full-virtual days impact his/her schedule?
There will be no change to the NOC schedule and procedures for full-time cyber students.