WPIAL Championship • District Dismissal Information
Junior-Senior High School Information:
The Junior-Senior High will operate on an early dismissal schedule on Friday, March 4 so students wishing to attend the WPIAL Championship game may do so.  All students in grades 7-12 will be dismissed at 11:46 am.  Lunch will be served prior to dismissal. 
Student Spectator Bus:  Given there is enough interest, the District will provide a bus for student spectators (grades 7-12).  Forty-two seats are available on a first-come, first served basis.  Proof of ticket purchase and a completed permission slip signed by a parent/guardian are required by 9:00 am on Thursday, March 3 — permission slips are to be submitted to the high school office. The bus will depart from the high school at 12:30 pm on Friday, March 4. The bus will be chaperoned by District personnel.  Students attending the game are expected to read and follow the rules and procedures set forth by the WPIAL and Petersen Events Center – see below.
Memorial Elementary School Information:
Neshannock Memorial Elementary School will continue to operate on a regular schedule on Friday, March 4; however, students wishing to attend the game will be granted an excused early dismissal after 12:00 pm.  Parents/guardians wishing to pick their children up after 12:00 pm to go to the game should send in a note to the child's homeroom teacher.  Spectators attending the game are expected to read and follow the rules and procedures set forth by the WPIAL and Petersen Events Center – see below.
---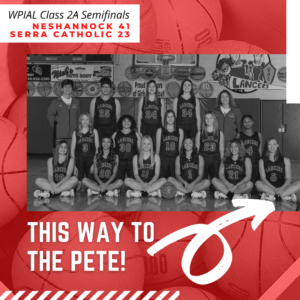 Our Lady Lancers are heading to the Petersen Events Center to play in the WPIAL Class 2A Championship!  They will take on Our Lady of the Sacred Heart High School (OLSH) on Friday, March 4.  We are incredibly proud of our team and coaches, and cannot wait to cheer them on at the Pete!
Neshannock vs. OLSH
The Petersen Events Center
The University of Pittsburgh
3:00 pm • Friday, March 4, 2022
Gates open at 2:00 pm.
Click Here to Purchase Tickets Online
General Seating:  $10
Reserved Seating:  $20
Tickets can also be purchased IN ADVANCE at the Petersen Events Center BOX OFFICE (upper concourse level) on Tuesday, March 1 and Wednesday, March 2  from 10:00am-4:00pm.  All fans entering must purchase a gate ticket, have an electronic ticket, have a Ticketmaster pre-purchased printed ticket, Ticketmaster COMP Ticket or a 2021-2022 WPIAL Courtesy Pass.
The TribHSSN will produce and broadcast the WPIAL 2022 Basketball Championship Games. 
---
The WPIAL and Petersen Event Center both have specific rules and procedures for the big game.  If you're planning to cheer on our Lady Lancers from the stands, please review the information below:
MASKS REQUIRED for all spectators and non-athletes
Petersen Event Center – Parking Map

Spectator parking will be available in the OC Lot on Allequippa Street — parking fees as posted apply.
Handicapped drop-off areas are located on Terrace Street in front of the Petersen Event Center.  Handicap accessible parking is available in the lot diagonal from the Petersen Event Center on Terrace Street with placard.

Pitt Bag Policy (see image below)
Upon entering the Petersen Events Center, guests will undergo appropriate security-based screening.  Please review Pitt's Clear Bag Policy (see image below) to ensure your bag will be permitted inside the facility.
Digital Programs for the 2022 Basketball Championships will be available via the WPIAL website.
WPIAL Souvenir shirts will be on sale at the Petersen Event Center for $20.  Shirts may also be purchased online.
Noisemakers are prohibited.  Signs are permitted so long as they are in good taste and do not obstruct other's view — no glitter.
All fans in attendance must wear full length shirts at all times and cannot have their faces covered with either costume masks or paint.
In addition, the follow items are not permitted inside the Petersen Events Center:
Coolers, backpacks and sealed packages (including gifts for athletes and/or performers)
Food or Beverage, with the exception of special medical needs
Cans, bottles, glass or other similar containers
Video, audio, professional cameras, recording device, tripods and bipods are strictly prohibited in
the building.
Air horns or noisemakers
Weapons of any kind
Spiked or studded jewelry and belts
Laptops  (iPads are permitted)
Selfie Sticks
Pepper Spray or Mace
Laser Pointers
Go Pros
Animals, except for those performing disabled service duty
Electronic Cigarettes cannot be used inside the building
Signs, banners, flags, posters or any other item that:

obstructs the view
deemed offensive
pose a danger or a possible security risk

No Flags larger than 3′ x 2′
No Poles/Sticks for flags or signs
Petersen Events Center management reserves the right to make the final determination on prohibited items. In the event that the prohibited items are revealed in a search, guests will be asked to dispose of the items or return them to their cars before re-entering the building.