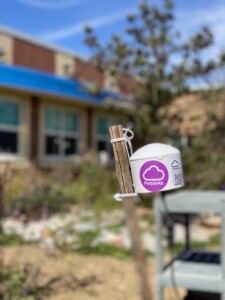 Mrs. Kristen Rogers, NHS Chemistry and AP Chemistry teacher, applied for and received a grant from the Society for Analytical Chemists of Pittsburgh (SACP) to receive Purple Air sensors for our school buildings.
The Purple Air sensors have been placed around the building as part of community science projects, as well as opportunities for the science classes in all grade levels (PreK-12).  Mrs. Rogers is very excited for the chemistry and environmental science classes to do some hands-on learning with these sensors and the data they collect.  We currently have four sensors placed inside the building — two in the high school and two in the elementary school — and one placed inside the high school greenhouse.
Once the sensors have had a few days to calibrate, students will be able to monitor the air quality, humidity, temperature, etc. of the five locations housing Purple Air sensors.  Community members can also check on the status of the air quality sensors by clicking here.  Currently, we are the only location in Lawrence County with Purple Air sensors.  The website typically displays the air quality/pollution, but there is also a dropdown menu that will allow you to view other aspects of the air.
On behalf of everyone at NTSD, we applaud Mrs. Rogers for her continued dedication to seeking out programs, grants, and authentic learning experiences for our students.