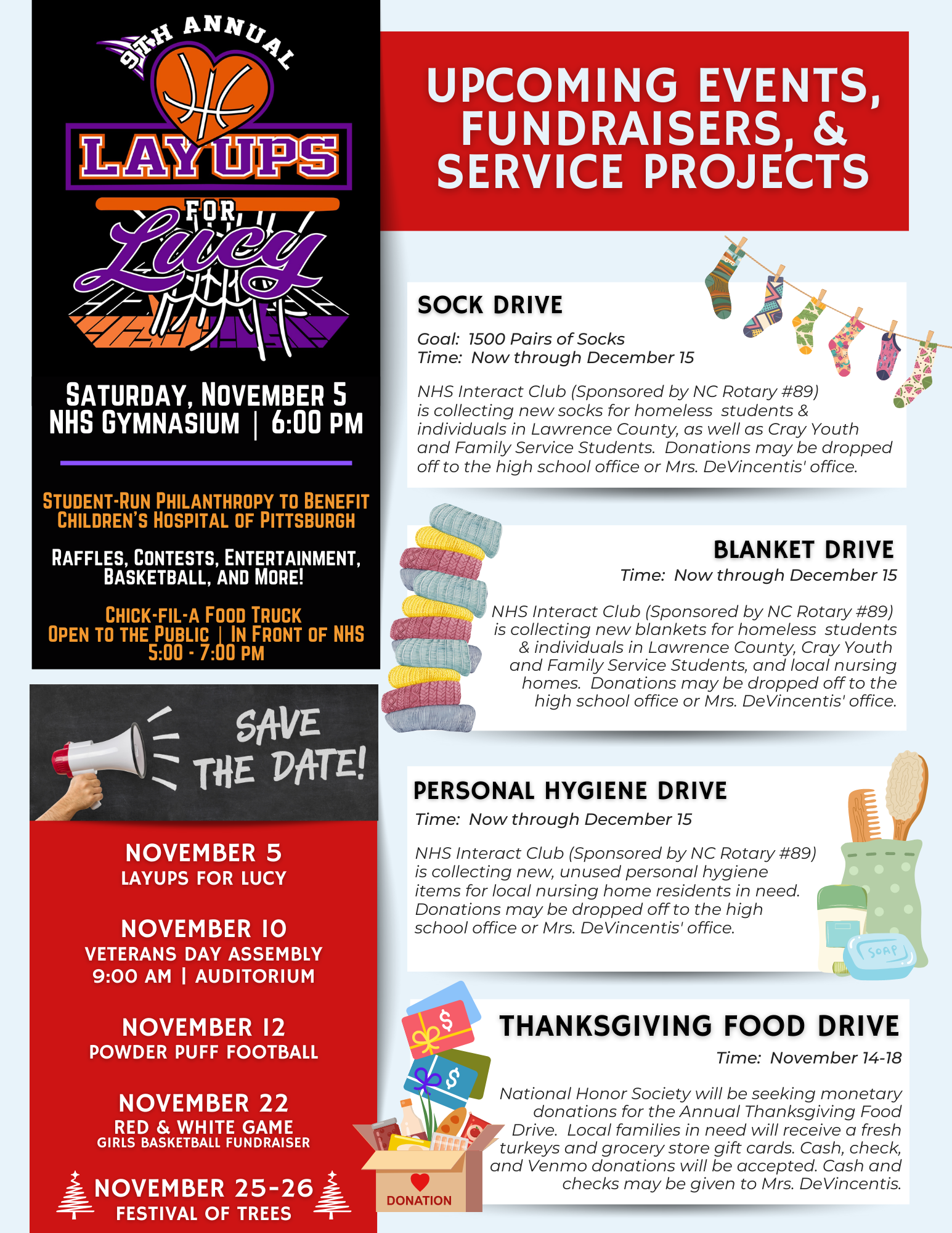 Whether it is an event, fundraiser, or service project, Neshannock Township School District is a bustling place!
As we head into November, there are a number of upcoming events and service projects deserving of your attention. Community members are always welcomed and encouraged to contribute the various service projects being conducted by our student body.  Anyone with questions about the service projects or Veterans' Day assembly may reach out to Mrs. DeVincentis.
Here are a few highlights about some of the events taking place this November:
Layups for Lucy is taking place on Saturday, November 5! Learn all about this incredible student-run philanthropy by visiting their Facebook page or reading the latest New Castle News by clicking here: "Layups for Lucy Returns Saturday, Eyes $200,000 in Donations"
Our Juniors and Seniors will be facing off in the Powder Puff Football game on Saturday, November 12.  This highly anticipated event doubles as a service project.  Admission is $3 per person of free with the donation of winter gear.  Both teams will be collecting winter gloves, hats, and mittens at the gate.  The team that collects the most items will have two points added to the scoreboard!  Donated items will be distributed to local individuals and families in need.
The Annual Lawrence County Festival of Trees will be held Thanksgiving weekend.  Neshannock Memorial Elementary School is transformed into a winter wonderland featuring a gorgeous holiday display of trees, wreaths, and lights.   Neshannock Township Education Foundation is looking forward to hosting a variety of entertainers and vendors for this highly anticipated community event.  The event will also include a gingerbread house contest and the traditional Christmas tree raffles. Click here for details on sponsorship opportunities, entertainment opportunities, and vendor applications.