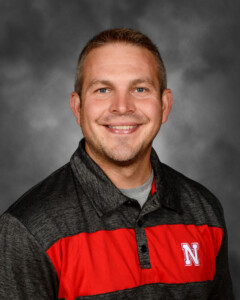 Director of Buildings and Grounds
Mark Ulam
mulam@ntsd.org
724-658-4793
NTSD Featured on WTAE Action News
Click Here to watch the video and read the full article highlighting the improvements made on campus to promote the health and safety of students and staff.
---
2021-2022 Buildings and Grounds Updates
The summer season is always busy on campus.  It is a time for renewing and revamping as we prepare to welcome students back to the building each fall.  This summer was no different.  Please take a moment to review the most recent updates and upgrades to our campus:
HVAC

:  The District has completed the HVAC system overhaul.  This project began in 2019 in the junior-senior high school and came to completion at the elementary school this August.  This project was a massive undertaking:

All classroom heat pumps have been replaced.
Six outside air handlers have been added to the system.  This will allow an increased flow of outside, fresh air to be circulated throughout the building.  The air quality in our buildings rates beyond the current ASHRAE standard for public schools.
New univents have been installed in all elementary classrooms.
All building automation controls have been replaced throughout the District.  These controls allow the Buildings and Grounds Department to monitor temperature and outside, fresh air flow into the buildings.
The HVAC overhaul has allowed us to drastically increase our exchange rate — the replacement of interior air within a certain space with outside, fresh air.
Air conditioning has been added to the middle gymnasium (closest to our Central Administration Office).

Hand Sanitizer Stations

:  Touch-free Purell hand sanitizer have been added to each classroom in the elementary school.  This project will continue with sanitizer stations being added to every classroom in the junior-senior high school.  Touch-free hand sanitizer stations will continue to be available in all high traffic areas through the campus interior.

Junior High Bathrooms

:  Both bathrooms on the third floor have been completely renovated.  These areas are now entirely touch-free with automatic flushers, sinks, soap dispensers, and towel dispensers.
Flooring:  The District has upgraded the flooring throughout the District.  This project began in 2019 and has come to completion this August.  All carpeting has been removed from the classrooms and replaced with non-porous LVT flooring.  This same flooring was also installed throughout the hallways.  The LVT allows for quick, effective cleaning and sanitizing on a daily basis.

Paint

:  Several areas in the elementary school have received a fresh coat of paint.  This project will continue throughout the District.
---
Response to COVID-19
Health and Safety Procedures and Products:
Social Distancing – Classrooms and other seating areas will be spaced apart to the maximum extent feasible
General Health and Safety Procedures (2020-2021) – Memorial Elementary School and Jr./Sr. High School
All individuals — students and staff — have their temperatures scanned prior to entering the building.  Student and staff temperatures are scanned 

through the use of walk-through, touch-free body temperature scan systems at entrances.  Handheld temperature scanners are also available at District entrances. 

Plexi-glass dividers continue to be present in shared work spaces. 

Bottle-filling stations are available throughout the building in lieu of traditional fountain-style drink stations.

Freestanding Purell hand sanitizer stations have been placed throughout the buildings, including entrances and high traffic areas.
All students and staff have access to multiple Meritech Automated CleanTech® Handwashing Systems throughout the buildings.  These handwashing systems remove the variability of human behavior from the hygiene process and effectively guarantee quality hygiene.  The systems are clinically proven to remove more than 99.9% of harmful pathogens from hands in 12 seconds using 75% less water than a traditional sink.
Our maintenance department continues to sanitize and sterilize all classrooms, common areas, and school buses on a daily basis. Throughout the District we are using all Green Seal Certified products. In addition, one product has the Eco Logo designation which is USDA approved. The Green Seal certification is attained through strict analysis of the chemicals makeup and its use. This not only protects the students through the day, but also the teachers and custodians who come in contact with these products on a daily basis.
We utilize a disinfectant product that has seven capable solutions in one.  VitalOxide is used for the following:
EPA Registered hospital disinfectant cleaner
NSF Registered no rinse required food surface sanitizer
Mold and mildew killer
Allergen eliminator
Odor eliminator
HVAC antimicrobial control
Soft surface sanitizer
VitalOxide is one of the leading products in terms of safety and effectiveness.
We are also utilizing several Purell products including hand sanitizer, surface sanitizer, and disinfectant sprays.