Carpool Cinema and Trunk-or-Treat
Saturday, October 28, 2023
Carpool Cinema Online Registration Form:  Click Here
Trunk-or-Treat "Trunk" Volunteer Sign-Up:  Click Here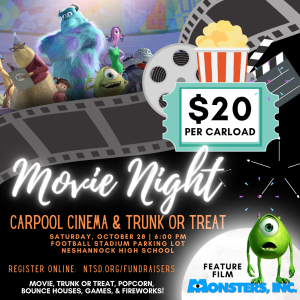 As partners, Neshannock Township Board of Supervisors and NHS Student Government invite you to our Halloween Carpool Cinema and Trunk-or-Treat festivities! With the purchase of admission, this community event is open for all to enjoy!
As we enjoy the fall season, please join us for a drive-in movie and trunk-or-treat on Saturday, October 28! We will be featuring Monsters, Inc. (Rated G) on two, extra large LED screens! It is an animated story about Monsters Incorporated, the largest scare factory in the monster world with James P. Sullivan as one of its top scarers. Sullivan is a huge, intimidating monster with blue fur, large purple spots and horns. His scare assistant, best friend and roommate is Mike Wazowski, a green, opinionated, feisty little one-eyed monster. Visiting from the human world is Boo, a tiny girl who goes where no human has ever gone before! As moviegoers, you will be able to enjoy the show from the comfort of your own vehicles, or you may set up your own chairs and enjoy the show under the stars!
For just $20 per carload, attendees of all ages will enjoy one bag of complimentary popcorn, the movie, trunk-or-treat, a bounce house, interactive games, and a fireworks display.  There will also be concessions and/or a food truck on site with items available for purchase.
The parking lot will open at 6:00 pm for Trunk-or-Treat, games, and inflatables.  Costumes are not required, but certainly encouraged.  The movie, Monsters, Inc., will begin at 7:00 pm.  The community event will conclude with a fireworks display!
Don't wait until the last minute to secure your spot — parking lot spaces are limited.  Sales will close once the parking lot sells out.
Click Here – Online Registration Form
---
NTSD Fundraiser Procedures:
Collections by students on behalf of school organizations outside the schools may be permitted only by the Superintendent.
The Superintendent or designee shall establish rules and regulations to implement this policy which:
1. Limit the number of fundraisers in a year for any group.
2. Specify times and places in which funds may be collected.
3. Describe permitted methods of solicitation that do not place undue pressure on students or patrons.
4. Limit the kind and amount of advertising for solicitation.
The building principal shall distribute this policy and relevant procedures to each student organization granted permission to solicit funds.