Summer Golf Clinic
Learn how to putt, chip, and drive, as well as the basics regarding course etiquette, with the Neshannock Golf Team!  Participants who register by May 26 will receive a t-shirt.  Attendees will also enjoy lunch and a putting contest!
Printable Registration Form: NHS Golf Clinic
June 9, 2023 • 10:00 am – 12:00 pm
Castle Hills Golf Course
$25 per participant • Grades 5 and up
Registration forms and checks payable to Nicole Vitale and mail to the following:
Nicole Vitale
143 Valhalla Drive
New Castle, PA 16105
Questions? 
Contact Nicole Vitale at 724‐971‐8012 or ncpyro@mac.com – Thank you!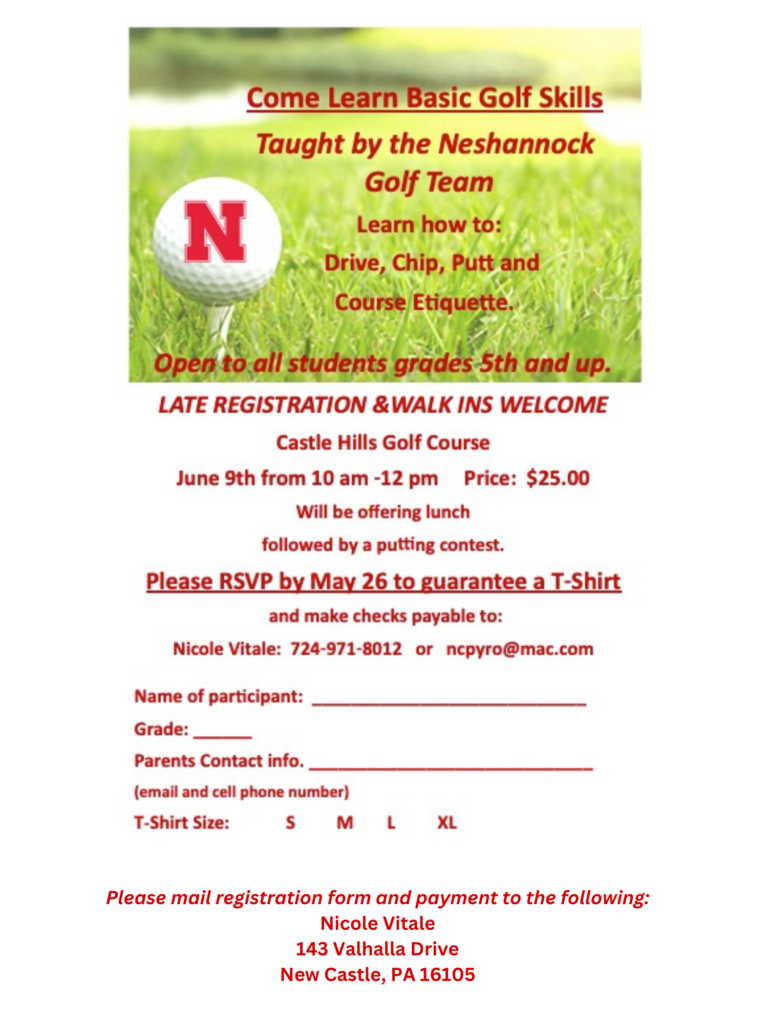 ---
Summer Basketball Camp
Registration Link: 2023 Basketball Camp
June 20-23, 2023
Grades 1 – 4 8:30 to 10:30
Grades 5 – 7 10:45 to 12:45
Cost: $75.00 per player
Venmo: @nhs_basketballboosters (5859)
Check:  Payable to "Neshannock Basketball Boosters"
Please mail check payments to the following:
Neshannock Basketball Camp
℅ John Corey
2964 Melvin Dr.
---
Neshannock X-Tra Miles Boosters | 11th Annual John Thompson Memorial 5K Run/Walk
Saturday, June 3, 2023 | 9:00 am | Neshannock High School Bob Bleggi Stadium
Click Here to Register Online   Printable registration forms are posted below.
It is the 11th anniversary of the John Thompson Memorial 5K ! Please join us for our run from Neshannock High School parking lot to Pearson Park and finishing the final portion of the 5K on our John Thompson Trail and high school track. Runners and walkers are welcome of all ages and abilities!
This year we will adding a Team Competition event to motivate area athletes to earn a monetary prize for their booster organization. The team competition is open to Neshannock and Non-Neshannock teams!
Race day registrations accepted at $25! This event is a chip timed race on the campus of Neshannock Twp. School District which includes a very flat 1/4 mi. section of the nature trail (weather permitting).  This race benefits the Neshannock Cross Country Team, the maintenance of the John Thompson Nature Trail, and the John Thompson 5K Scholarship.  Registration and packet pick-up begins at 7:45 am behind Neshannock High School in the stadium.
Registrations made before May 10th will guarantee this year's giveaway.
Save money by registering as a group!
Awards/Medals given to:  Top 3 male/female finishers overall and Top 3 male/female finishers in the following age groups: 9 and under, 10-12, 13-15, 16-19, 20-29, 30-39, 40-49, 50-59, 60-69, 70+.
Team Competition Award: An award of $200 will be given to the Booster organization of the winning team(s)–male and female. A team comprised of a mix of male and female will be considered "male" for these purposes.
Additional prizes may be awarded to top runners at the discretion of the organizers.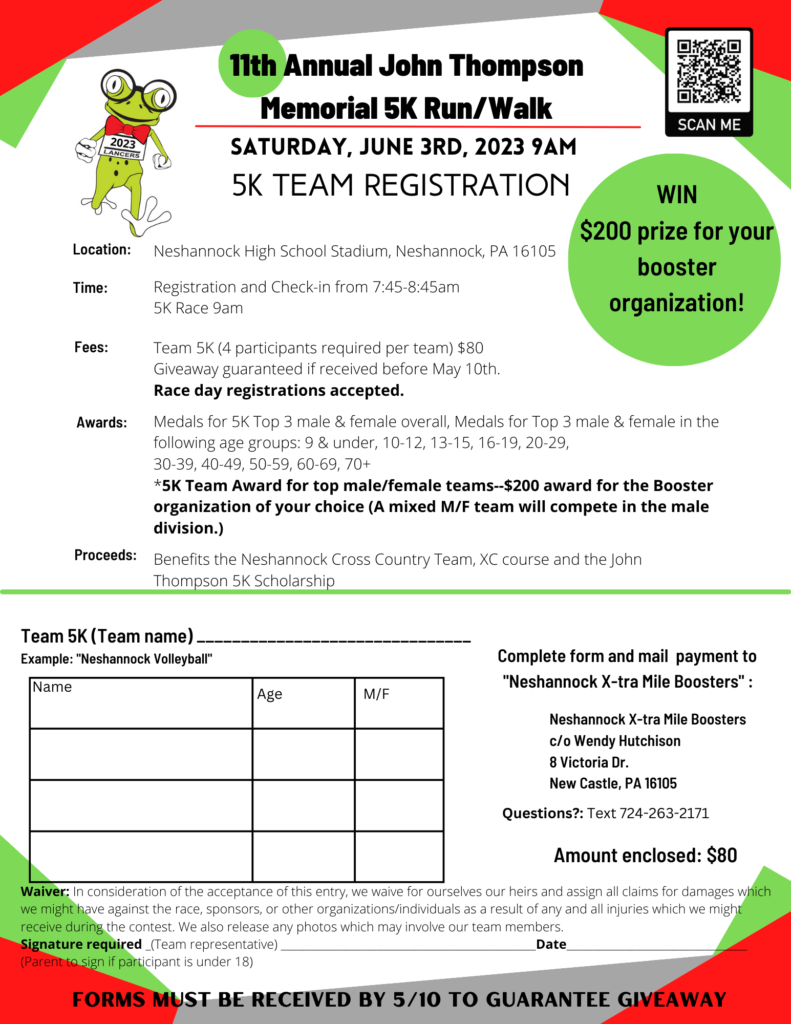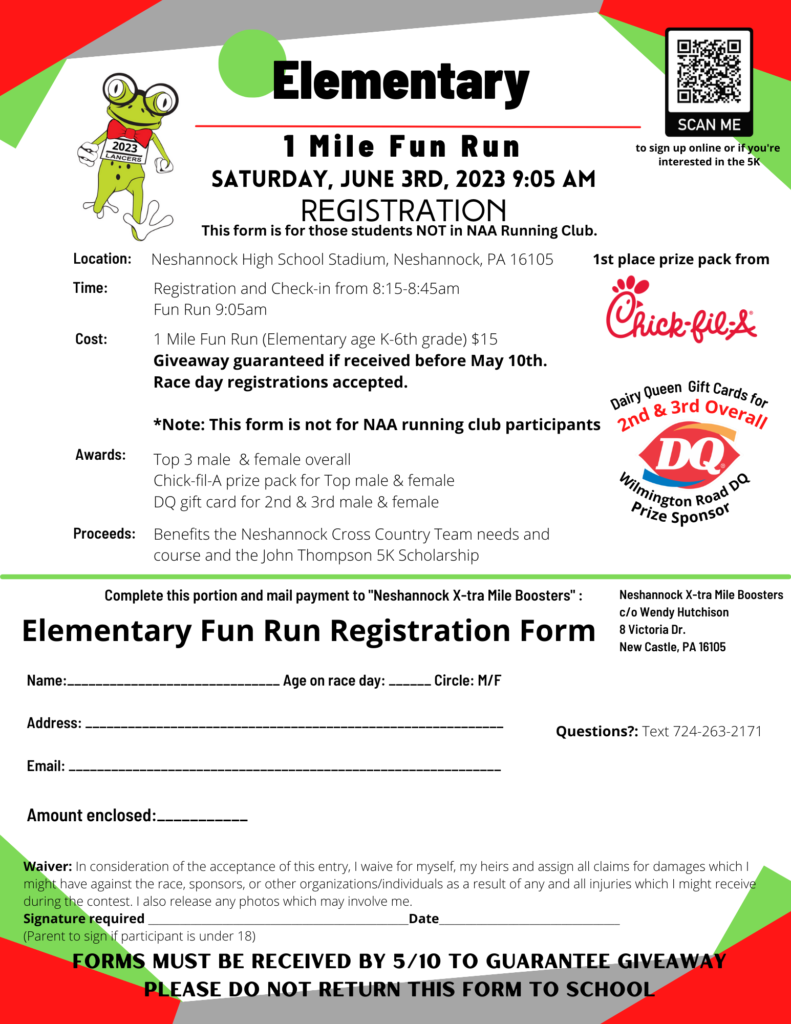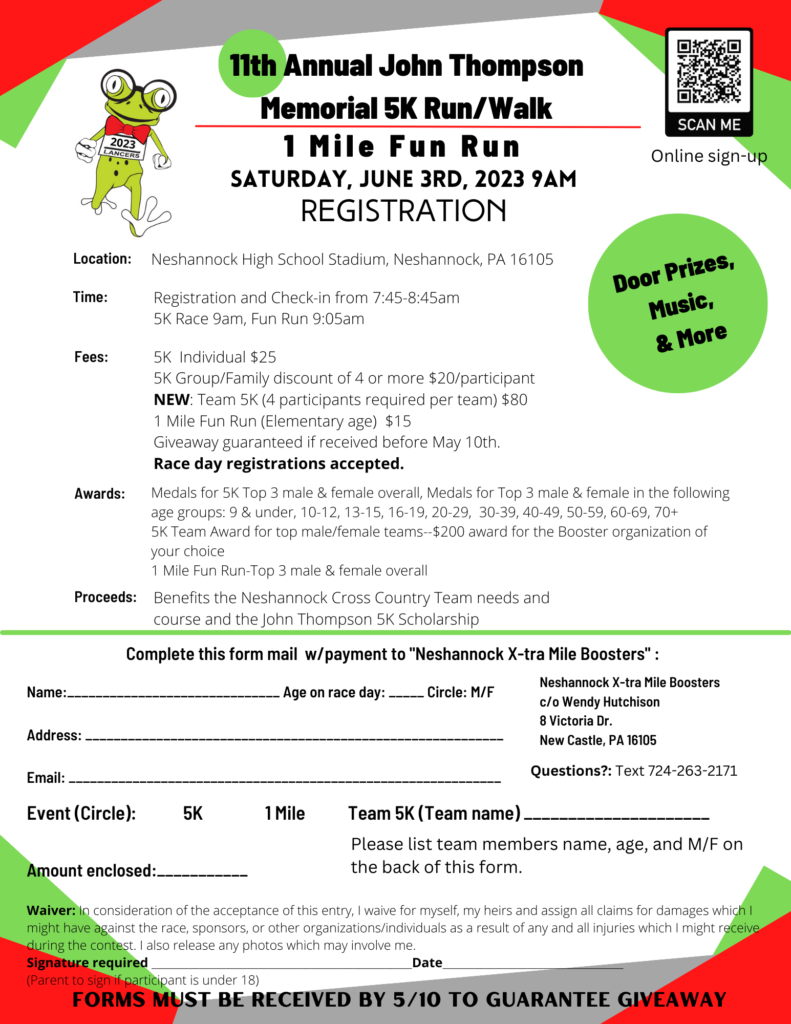 ---
NHS Student Government
Intramural Volleyball Tournament | April 15, 2023
---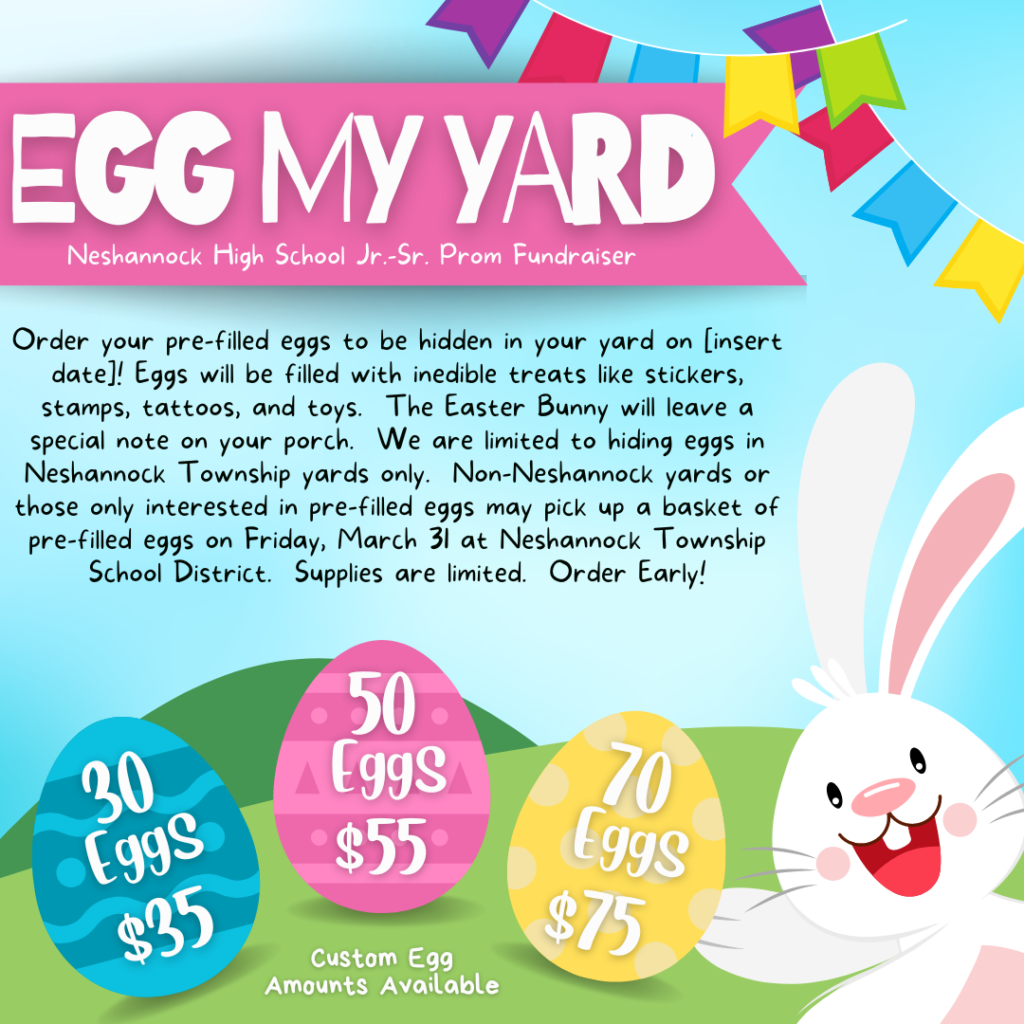 Online "Egg My Yard" Order Form – Click Here
---
NTSD Fundraiser Procedures:
Collections by students on behalf of school organizations outside the schools may be permitted only by the Superintendent.
The Superintendent or designee shall establish rules and regulations to implement this policy which:
1. Limit the number of fundraisers in a year for any group.
2. Specify times and places in which funds may be collected.
3. Describe permitted methods of solicitation that do not place undue pressure on students or patrons.
4. Limit the kind and amount of advertising for solicitation.
The building principal shall distribute this policy and relevant procedures to each student organization granted permission to solicit funds.