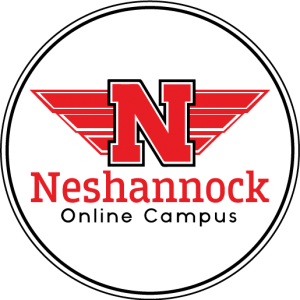 The Neshannock Online Campus serves students in grades 7 through 12 and is powered by Schoology. Our online campus offers Neshannock Township School District students both the academic strengths of the traditional classroom and the flexibility of an online learning platform. The Neshannock Online Campus curriculum offers full access to district resources and facilities, including guidance counseling, libraries, and athletic facilities at no cost to district families. Your child may join extracurricular music and theater groups, special interest clubs, and sports teams. The online academy offers students something unique to cyber education — a Neshannock Township School District diploma and the ability to graduate with classmates.
Interested families should contact Mrs. DeVincentis to complete a registration application and student contract and are expected to meet either virtually or in person (prior to placement) to discuss the NHS Online Campus. All NHS Online Campus courses scheduled will meet graduation or grade level requirements that are in line with the Neshannock School District.
Policies and Procedures:
All students enrolled in the online campus must adhere to the policies and procedures outlined in our student handbook. Students will follow the school calendar and must be logged in for attendance purposes no later than 8:15 am each school day. If a student decides to withdraw from the Neshannock Online Campus, transition back to the Junior/Senior High School building can occur at the end of a grading period. Also, students are required to participate in mandatory assessment testing (i.e. PSSA and Keystone). Details will be provided to the students and parents prior to the testing windows.
Schoology Framework:
From attendance to assessments, Schoology is the central hub for your student's online learning experience. Each student will log on to view their unique course dashboard and, from there, navigate to the course page for each of their scheduled classes. Course pages contain materials created by the student's instructor. Materials can include video lessons, interactive assignments, online lab experiences, virtual assessments, and more. Student's submit completed work to their teacher via the platform, keeping virtual learning as organized as possible. The system will also display instructor feedback directly on the submitted assignment or assessment. Additional features such as messaging with teachers, notifications for upcoming assignments, and a list of overdue work also help to enhance and organize the online learning experience. 
Interested in learning more, check out the video below highlighting the Schoology experience at Neshannock or read through our student Schoology guide (coming soon).
Printable Version:  NHS Online Campus Handbook Information
---
Contact Information:
Neshannock Jr./Sr. High School:  724-658-5513
Mrs. Jennifer Flannery, Director of Educational Services
724-658-4793, ext. 5103
jflannery@ntsd.org
Mrs. Alicia Measel, Neshannock Online Campus Principal
724-658-5513, ext. 5120
ameasel@ntsd.org
Mrs. Brenda DeVincentis, Online Campus Registration/Senior High School Counselor
724-658-5513, ext. 5115
bdevincentis@ntsd.org
Mr. Adam Held, Junior High School Counselor
724-658-5513, ext. 5122
aheld@ntsd.org
Mrs. Staci Norris, Director of Special Education
724-658-4793, ext. 5106
snorris@ntsd.org
Mr. Brad Shaffer, Network Administrator
724-856-4630
bshaffer@ntsd.org
Mr. Aaron Viggiano, Network Administrator
724-856-4630
aviggiano@ntsd.org