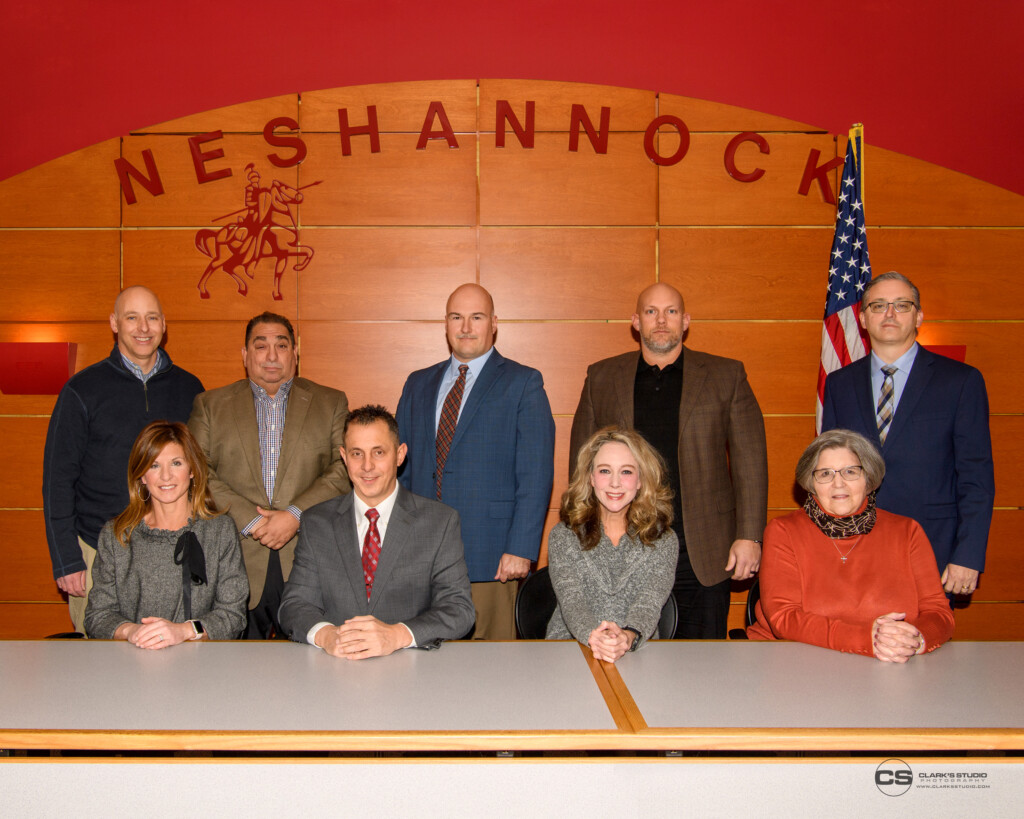 PJ Copple – President
pjcopple@ntsd.org
Michael Vatter – Vice President
mvatter@ntsd.org
Karen Houk – Treasurer
khouk@ntsd.org
Matt Allison
mallison@ntsd.org
Dave Antuono
dantuno@ntsd.org
Kelly Corey
kcorey@ntsd.org
Mark Hasson
mhasson@ntsd.org
Michael Kalpich
mkalpich@ntsd.org
Autumn Schachern
aschachern@ntsd.org
The Neshannock Township School District would like to thank our School Board Members past and present, for their dedicated service to this District.
---
Click on the BoardDocs link above for NTSD School Board meeting dates, policies, agendas and more!
---
School Board meetings are also published on the Events Calendar of the District website.  
---
Report of Board Meeting – September 14, 2023
Report of Board Meeting – August 10, 2023
Report of Board Meeting – June 8, 2023
Report of Board Meeting – May 11, 2023
Report of Board Meeting – April 17, 2023
Report of Board Meeting – March 9, 023
Report of Board Meeting – February 9, 2023
Report of Board Meeting – January 12, 2023
Report of Board Meeting December 5,  2022
Report of Board Meeting – November 10, 2022
Report of Board Meeting – October 13, 2022
Report of Board Meeting – September 8, 2022
Report of Board Meeting – August 11, 2022
Report of Special Board Meeting – June 30 2022
Report of Board Meeting – June 9 2022
Report of Board Meeting – May 12, 2022
Report of Board Meeting – April 11, 2022
Report of Board Meeting – March 7, 2022
Report of Board Meeting – February 10, 2022
Report of Board Meeting – January 13,  2022
Report of Board Meeting – December 9, 2021
Report of Board Meeting – November 8, 2021
Report of Board Meeting – October 14, 2021
Report of Board Meeting – September 9, 2021
Report of Board Meeting – August 16, 2021
Report of Board Meeting – June 10, 2021
Report of Board Meeting – May 13, 2021
Report of Board Meeting – April 15, 2021
Report of Board Meeting – March 11, 2021 
Report of Board Meeting – February 11, 2021
Report of Board Meeting – January 14, 2021
Report of Board Meeting – December 10, 2020
Report of Board Meeting – November 13, 2020
Report of Board Meeting – October 8, 2020
Report of Board Meeting – September 10, 2020
Report of Board Meeting – August 27, 2020
Report of Board Meeting – August 13, 2020
Report of Board Meeting – June 22, 2020
Report of Board Meeting – June 15, 2020
Report of Board Meeting – May 2020
April 2020 – Meeting Canceled
Report of Board Meeting – March 2020
Report of Board Meeting – February 2020
Report of Board Meeting – January 2020
Report of Board Meeting – December 2019
Report of Board Meeting – November 2019
Report of Board Meeting – October 2019