Class of 2021
All senior wear orders and payments are due by Monday, April 19 — exact cash or checks made payable to Neshannock Student Activities.  Orders received after the April 19 deadline will not be processed.  Please place your orders in the basket outside NHS Room 131 or mail them to following:
Neshannock High School
Attn:  Cindy Welker
3834 Mitchell Road
Neshannock Township, PA 16105
Questions?  Email Ms. Welker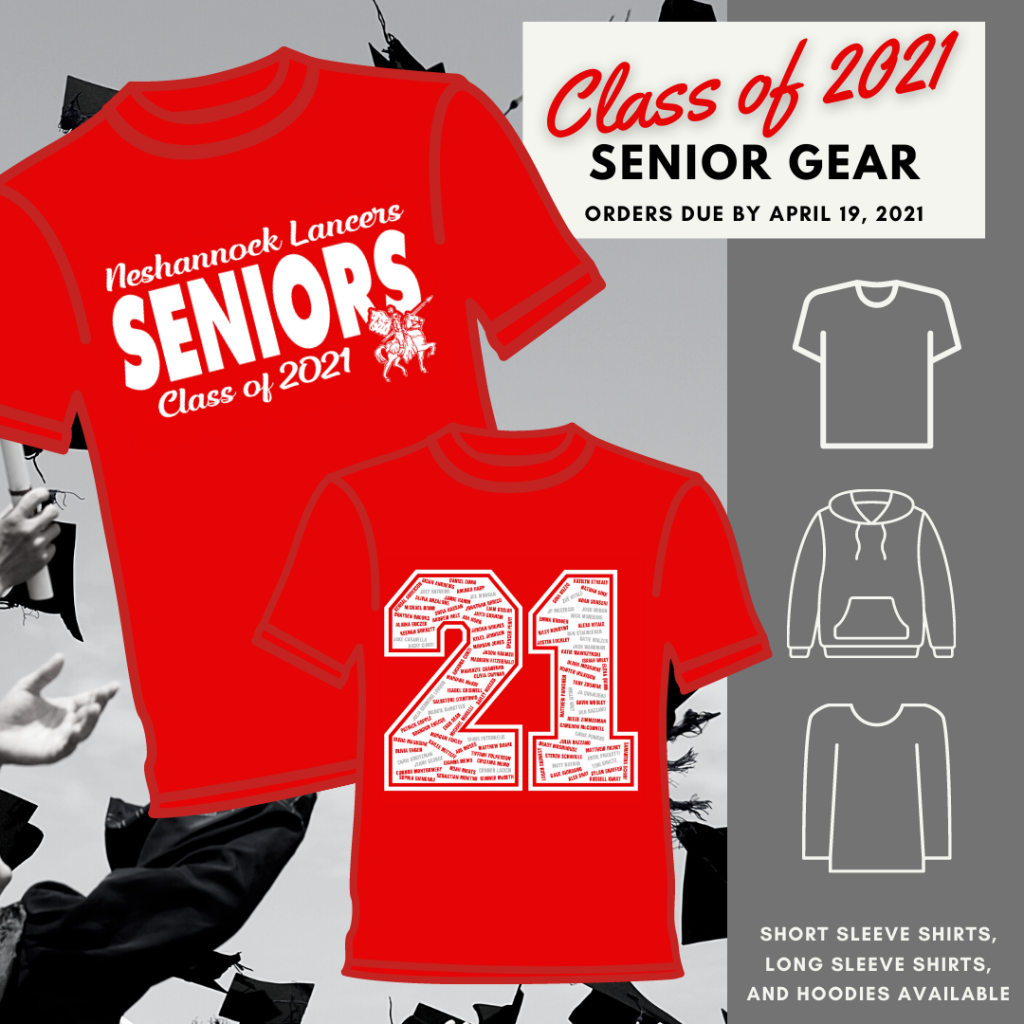 ---
COVID-19 Information and Reopening Plans
---
2020-2021 Daily In-Person Schedule
9:53 am – 2:53 pm
---
Live Virtual Instruction

Effective November 11, teachers will be hosting live sessions will be held during regularly scheduled class periods for the duration of any temporary building closures.  Virtual learners may access these live sessions.
---
724-658-5513
Superintendent
Dr. Terence Meehan
Contact by Email
High School Principal
Mr. Luca Passarelli
Contact by Email
Secretary
Mrs. Donna Mott
Contact by Email
A message from the High School Principal
NESHANNOCK JUNIOR/SENIOR HIGH SCHOOL: STATE AND NATIONALLY RECOGNIZED FOR EXCELLENCE…
Welcome to Neshannock Junior/Senior High School, home of the Lancers! We are a 21st century, comprehensive high school that serves over 600 students in grades 7-12. Our faculty and staff are highly qualified, skilled practitioners who work in tandem to ensure every student in our building receives the benefits and rewards of a rigorous, well-designed, and well-executed education.
Our high school is a fully "connected" and integrated 1:1 learning hub. Each student's education is enriched by human and material resources. Chromebooks are provided to each student so it is possible to interact with peers in the classroom and with other learners from the farthest reaches of the globe. Additionally, a multitude of STEAM opportunities exist. As such, our students graduate from Neshannock High School with competencies that are considered to be "industry standards" for success. State-of-the-arts facilities complement this endeavor.
We are ever-expanding our curricular opportunities to match the needs of our students and the demands of society. At the junior high school, our Makerspace and STEM curricula are evolving. The high school now offers Anatomy and Physiology, Computer Science, Video Production, and CHS Statistics. We are also resurrecting our school newspaper, rebranded The Freelancer. We continue to offer a comprehensive Advanced Placement program and a flourishing College-In-High- School platform that awards 36 credits. We encourage exploration of the District's website for further information.
In addition to our students' academic opportunities, we support 16 varsity sports and a variety of extracurricular opportunities. The Lancers have garnered numerous WPIAL championship and PIAA championship victories. These successes have occurred on beautifully maintained fields and courts.
Multiple creative outlets exist for our artists, musicians, and actors. The stadium is alive with the sound of music on Friday nights in the fall, and the stage serves as the venue for band and choir performances at various times during the year. Our award-winning, spring musicals never cease to amaze patrons.
Our students and staff are the pride of our School District – the brick and the mortar!
Sincerely,
Mr. Luca J. Passarelli, High School Principal
---
District Comprehensive Plan*
*Posted for Required Public Review
---
Helpful Links:
Junior-Senior High Lesson Plans
Senior High Program of Studies: 2021-2022
Pennsylvania Keystone Exams – Letter to Parents/Guardians
2020-2021 Bell Schedule: