Neshannock High School Presents Damn Yankees!
Under the direction of Mr. Michael Cavalier, Neshannock students are preparing to take to the stage for this year's musical production, Damn Yankees!  Be sure to mark your calendars!  The musical will be held on March 29, 30, and 31, 2019!
Showtimes:
Friday, March 29th – 7:30pm
Saturday, March 30th – 7:30pm
Sunday, March 31st – 2:00pm
Admission:
Adults:  $11
Seniors:  $10
Students:  $9
Available times to purchase tickets will be posted soon.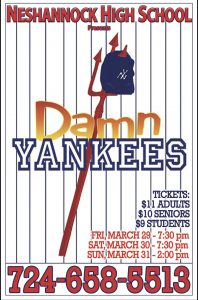 Damn Yankees Synopsis:
A middle-aged man sells his soul to the devil to become a crackerjack baseball player who can help his beloved Washington Senators beat the Yankees in the World Series. But despite the devil's best attempts — including the sexy Lola — to keep him under his sway, the man wants to return to his wife. (Source)
Cast:
Joe Boyd – Alex Shay
Meg Boyd – Christina Cardenas
Mr. Applegate – Ryan Rich
Sister – Hannah Veronesi
Doris – Kaitlyn Cochenour
Joe Hardy – Quinn Hilton
Van Buren – Michael McVay
Smokey – Sam Bessell
Rocky – Connor Proctor
Gloria Thorpe – Leah Buczek
Lola – Margo Silverman
Welch – Justin Banko
Male Ensemble: Sam Ball, Michael Benson, Brayden Brooks, Brandon Enscoe, Milan Fusco, Christian Golub, Nico Johnson, Sebastian Montini, Riley Novotny, Ross Quimby, Lorenzo Scarnati, Tristan Tuck, and Nick Viggiano
Female Ensemble:  Victoria Conrad, Olivia Cwynar, Sophia Giangiuli, Mia Hasson, Kelli Huffman, Hannah Kwiat, Mackenzie Moses, Martina Moses, Isabelle Paras, Julia Razzano, Sara Senich, Aaliyah Smith, Melissa Srun, Alexa Vitale, Katie Walzer, and Shenley Wish