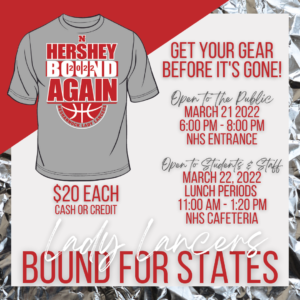 Our Lady Lancers have done it again!  Our back-to-back WPIAL Champs are heading to the PIAA State Finals at the Giant Center in Hershey, PA for the second year in a row!  We are so proud of our student athletes and coaches!
Show your school spirit and support for this stellar group of student athletes by purchasing a "Hershey Bound Again" commemorative t-shirt!  Get your shirt on Monday, March 21, 6:00 – 8:00 pm, at the entrance to NHS!  Students and staff will have another opportunity to purchase their gear on Tuesday, March 22 during lunch periods in the high school cafeteria.  Shirts are $20 each.  Proceeds benefit Neshannock Student Activities Department.
PIAA Class 2A State Championship Details
Neshannock vs. Southern Columbia
March 25, 2022 • 12:00 pm
Giant Center • Hershey, PA
Tickets Available through Ticketmaster:  Click Here
Livestream Available through Pennsylvania Cable Network:  Click Here (Subscription Fees Apply)
---
Student Spectator Bus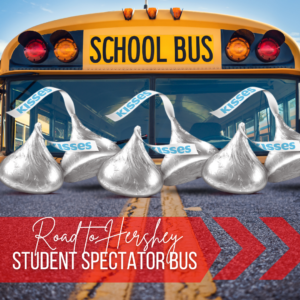 Given there is enough interest, the District will provide a bus for student spectators (grades 7-12). Forty-two seats are available on a first-come, first served basis. Proof of general admission ticket purchase and a completed permission slip signed by a parent/guardian are required by 9:00 am on Thursday, March 24 — permission slips are to be submitted to the high school office.
The permission slips will be available after 12:00 pm today (3/22) in the high school office.
Student passengers should report to the back of the school by the cafeteria doors no later than 6:00 am on Friday, March 25. The bus will depart from the back of the high school at 6:15 am. The bus will be chaperoned by District personnel. We anticipate that the bus will return to the back of Neshannock High School at approximately 7:00 pm. The bus will make one stop at a rest area on the way there and another stop at a rest area on the way home. Students should bring their own cash/cards to purchase snacks and drinks throughout the day.
Absences from school of students attending the PIAA State Finals on Friday, March 25 will be marked as excused.
Students attending the game are expected to read and follow the rules and procedures set forth by the PIAA and Giant Center.
Given there is enough interest, the District will also provide a bus for elementary students in sixth grade. Permission slips are being sent home with the sixth grade students on Tuesday, March 22. 
Let's Go, Lady Lancers!
---
Additional Details from PIAA:
One ticket per game, but you can purchase series tickets for all four games in one day.
As general admission, you will choose seats when you arrive. Follow GIANT CENTER signage. Dark blue on map is general admission.
Home bench is in front of reserved section 106. Neshannock is the home team for the Finals.
The presence and/or the use of balloons, banners, laser pointers, noisemakers, pom-poms (by spectators), shakers, signs, sirens, strips of material, towels, whistles, and/or portable listening devices (without earphones) are PROHIBITED! The Principal and Athletic Director of each school will be requested to confiscate these items from their cheerleaders and/or the spectators from their school and community. The use of pom-poms by cheerleaders and small portable listening devices with earphones is permitted. Spectators are prohibited from removing their shirt and/or using body paint while in attendance at District and Inter-District Championship Contests.