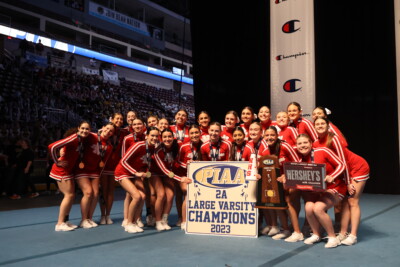 Cheerleading is serious business at Neshannock High School.  Not only do these student athletes have school spirit, but they also have a competitive side that has schools all over the state taking notice!  Under the direction of Head Coach Colleen Fry Daughtry, our competitive cheer team claimed GOLD at the 2023 PIAA Competitive Spirit Championships, held in Hershey, PA, on January 27 and 28…for the SECOND YEAR IN A ROW!
In 2022, the team qualified for the PIAA Championships, but had to fight their way to the finals.  Their performance in the preliminary round was good enough to get them to the semifinals, but not quite enough to get a ticket directly to the finals.  Through late night practices, last minute changes, and hard work, they nailed their semifinal routine and earned a spot in the finals.  Against all odds, our Neshannock Lancers earned PIAA Gold in Hershey that year.  It was a once in a lifetime experience…or so we thought!
In 2023, the team earned the titles of WPIAL 2A Large Varsity Champions and Overall WPIAL Runner-Up making them the only competitive cheer squad in Lawrence County to qualify for the PIAA Championships.  After a spirited send-off from family and friends, our girls hit the road to Hershey last Thursday with high hopes (and a lot of self-imposed pressure) to repeat 2022. Even with four deductions in the preliminary round, Neshannock earned the second highest score (Hickory earned the highest) allowing them to forego the semifinals and go directly to the finals.  This was a first for Neshannock Cheer!  Our team was excited and ready to go on Saturday morning.  They knew that it was anybody's game, but felt confident that they could hit a "zero deduction" routine. The red and white took to the mat with high energy and delivered a performance they'll never forget, and as they say, the rest is history!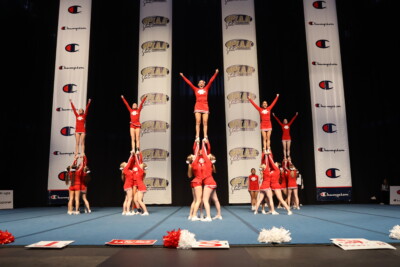 To say that Coach Colleen is proud of these athletes would be the understatement of the year.  When asked about the team and the entire experience that led them to back-to-back gold, she had the following to say:
This season started with all eyes on these girls. They could feel the immense pressure and expectations from the past year. Not only did they live up to these standards, but they blew them right out of the water!  History was made this weekend!  Neshannock Cheer has never made it straight to finals before, and yet these girls did it! With ZERO deductions on their final routine, they not only fiercely fought for, but they also defended their state title and won it all!
This group has taught me what determination and true love for this sport looks like. They have poured their hearts and souls into every practice since day one.  By pushing themselves harder than ever and getting right back up when they failed, they met and surpassed their goals.   Every year my goal is to instill these values in my squad, win or lose. No matter what, they continuously show up and strive to be the best they can be making themselves better athletes AND making me a better coach.  I am in awe of each and every one of these young ladies and could not be prouder! Thank you to our boosters, the fans, the administration, and the entire Lancer Community for making this weekend that much SWEETER! 
Coach Colleen and the Back-to-Back State Champions were welcomed home in style!  Our champions were escorted back to Mitchell Road by a motorcade led by Neshannock Township Chief of Police John Rand.  Several police cruisers, ambulances, and first responders participated in the motorcade.  As they pulled into NHS, our team was greeted by screaming friends and family, confetti cannons, and music.  Our Township Supervisors – Leslie Bucci, Steve Demofonte, and Joe Gierlach – generously donated Nina's Italian Ice for all to enjoy! It was a night we hope they never forget!
Congratulations to our Back-to-Back State Champions!  You make us proud!
"Welcome State Champs" Photo Album by Something for Your Wall Photography