Neshannock Junior High School teacher Miss Lindsay Bangor attended the National Schools to Watch™ Conference, June 26-29, 2019, in Washington D.C. where she accepted the Schools to Watch™ Re-designation on behalf of the faculty, staff, and students of the Neshannock Junior High School.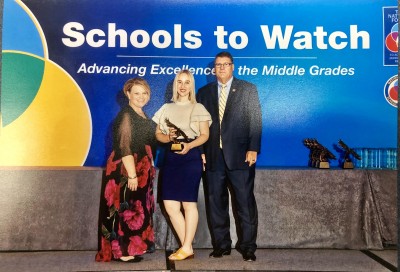 In addition to attending the conference, Bangor presented on the Life Skills Level 3 curriculum she teaches as part of the eighth grade QRT (Quality Resource Time) rotation period. The fifty-minute presentation focused on the different modules of the program, as well as how it benefits adolescents in dealing with the challenges of living in the modern world.  The program teaches students to approach problems in a healthy, mindful, and positive state.  According to Bangor, the audience's favorite part of the presentation was the small yoga session that corresponded with the "Dealing with Anxiety" module, an activity that is also a favorite among students. Bangor said, "every single attendee said that part was something they wanted to try in their classrooms; one specifically stating she wanted to try it before a test." 
When not presenting, Bangor was also able to attend other presentations by Schools to Watch™ schools on topics such as using therapy dogs in the classroom, implementing multicultural lessons, and utilizing music to help students study. Bangor said, "it was truly an honor to be able to represent Neshannock at the conference, and I am thankful to be a part of a District that prides itself on both academic and professional excellence."
We continue to be extremely proud of our Junior High School — faculty, staff, and students — as a Schools to Watch™ school, and are incredibly grateful for the experience Miss Bangor had at the conference while representing NTSD so well!