On the evening of Thursday,  January 16th, the red carpet was rolled out for over 200 young ladies and their guests of honor — fathers, uncles, grandfathers, and special guests — for the 4th Annual PTO Father Daughter Dance.  This event is part of an effort to fulfill its mission in supplying additional moments and experiences for the students and teachers of Neshannock Memorial Elementary School.  PTO will be hosting a Mother Son event this February.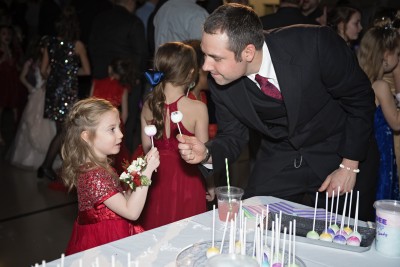 Several areas of the elementary school were creatively transformed into the "Land of Sweets" for the special event.  Not a single detailed was overlooked, which is no surprise since the PTO began planning for the event back in September under the guidance of event co-chairs Mrs. Joslynn Tatterson and Mrs. Sara Wilson.  They cited numerous volunteers — too many to name — as the reason for the event going so smoothly.  In addition to serving as event co-chair, Mrs. Sara Wilson spearheaded the food committee, which served sweet treats such as, pink lemonade, Nina's Italian Ice, lollipops, cotton candy, and cake pops!  Mrs. Richelle Paglia and Mrs. Erin McBride led the craft committee, which allowed the girls and their special guests to create one-of-a-kind, personalized keepsake memory books.  Mrs. Staci Amato and Mrs. Ida Mangiarelli went above and beyond behind the scenes as they handled all administration, RSVPs, tickets, and reminders for the festive occasion.   JMS Photography had the girls feeling like celebrities as she captured the moments with her camera all night, too!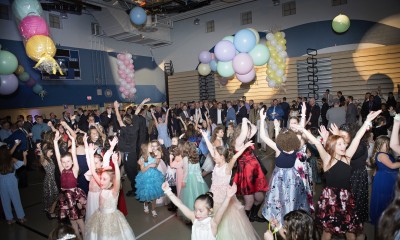 Joslynn Tatterson said one of their biggest tasks PTO faces is transforming the space so the attendees do not feel like they're at school, and yet it is the task she worries about the least, thanks to The Party Stop.  She sang praises to Maryett Clobus, owner of The Party Stop, for her gift of perfectly bringing the Land of Sweets vision to life with her one-of-a-kind balloon arrangements and décor.  The lobby, cafeteria, hallway, and multi-purpose room all looked amazing!
Many girls danced the night away with their friends and special guests as Faraone Brother DJ Service played their favorite songs, while others made their rounds with the craft, balloon artist, and photo booth.  There was definitely a little something for everyone!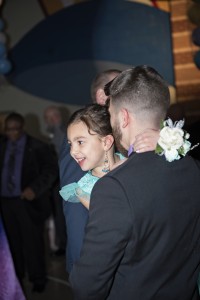 Many thanks to the PTO Officers — President Mrs. Wendy Hutchison, Vice-President Mrs. Joslynn Tatterson, Secretary Mrs. Richelle Paglia, and Treasurer Mrs. Ginger Ponziani — and countless PTO volunteers for hosting such a memorable occasion for our students and families.  We have no doubt that this highly anticipated event will continue to grow year after year!
Be sure to visit Neshannock Memorial PTO's Facebook page (@NeshannockMemorialPTO) to view more photos and videos of the Fourth Annual Father Daughter Dance!
Please enjoy the video below featuring some highlights from the special evening: