Congratulations to Neshannock Governor's STEM Team for placing 2nd Runner up in the 2021 Pennsylvania Governor's STEM Challenge!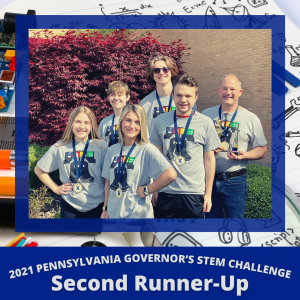 The five member team — Brayden Brooks, Lucas Doutt, Julia Germond-Loudon, Caitlin Kurutz, and Tori Shultz — developed a solution that met the challenge set by the state to "Improving Pennsylvania Through STEM". Under the direction of NHS Teacher and STEM Advisor Mr. Gregg Micsky, the Neshannock team developed a safety app that, with a shake of the phone, would alert a personal contact or police if the user felt threatened in any manner.  The app would also continue to send updates to their specific GPS location. The competition required the students to work from September through May and included long hours, nights, and weekends to get the challenge done.
In addition to guidance and support from Mr. Micsky, the team received help from mentors Mikayla Covington and Noah Ternullo.  Covington is the Healthy Relationships Today Coordinator at Alpha Omega Center, a women's shelter. She has a master's degree in communications and is working on a PhD in rhetoric.  Ternullo is the Principal Developer and Systems Engineer at Digital Arc Systems.  He has a degree in electrical engineering and a master's degree in computer science.
Seniors Julia Germond-Loudon, Victoria "Tori" Shultz, and Brayden Brooks and Juniors Caitlin Kurutz and Lucas Doutt each received a $500 scholarship for their contributions to Neshannock's Governor's STEM Team!
On behalf of everyone at Neshannock Township School District, congratulations to Mr. Micsky and our incredible STEM Team!  We are beyond proud of your hard work, dedication, and accomplishments!
Lulu App – User Tutorial (Video)
Lulu App – Phase 2 Project Proposal
Lulu App – Phase 2 Presentation