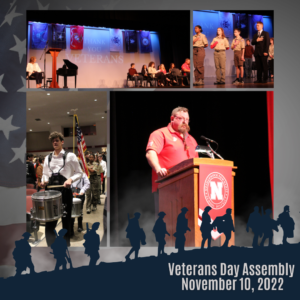 Our debt to the heroic men and valiant women in the service of our country can never be repaid.  They have earned our undying gratitude.  America will never forget their sacrifices.  
– President Harry S. Truman
Veterans were honored throughout Neshannock Township School District.  The halls were a sea of red, white, and blue as students and teachers — Grades PreK-12 — proudly displayed student work, handmade flags, art work, banners, essays, photos of veterans, and thank you letters.  It was a remarkable sight to see and wonderful expression of gratitude to our veterans.  Student gratitude for veterans will continue into the weekend as several student groups and individuals will be participating in the Annual Veterans Day Parade throughout Downtown New Castle.
National Honor Society and Student Government organized the Annual Veterans Day Appreciation Program, on November 10, 2022, at the Jr./Sr. High School.  Alexandra Kwiat, National Honor Society President, served as the host for this notable, student-run event.  Numerous members of the student body played key roles:
The Presentation (and Retiring) of the Colors – Neshannock Honor Guard:
Kiely Eakin, Mia Perrino, Emily Shaffer, Jacob Walzer, Lucas Walzer, and Sam Watterson
The Pledge of Allegiance – Scouts BSA Troops 674 and 743:
Kiely Eakin, Jake Pape, Emily Shaffer, and Sam Watterson
The National Anthem – Neshannock High School Choir Senior Ensemble:
Lexi Bender, Alayna DeCarbo, Aaralyn Nogay, and Rylah Watts
Elena Noga provided the history of Veterans Day to audience members before Nathan Rynd, Student Government President, introduced our guest of honor, Major Richard Burkett, Jr. – USMC (retired).  Major Burkett delivered a phenomenal message to our student body and esteemed guests.  He acknowledged that while not everyone in the room would likely become a veteran, they can all be patriots supporting this great nation.  He urged students to be involved, educated, and engaged in the world around us.  Major Burkett also implored every individual present to exercise their civic duty by voting in every election once they're old enough.  When people thank him for his service, Major Burkett's response is simple, yet powerful – "You're worth it.  No matter who you are or what you believe, you're worth it."  As noted by the standing ovation, Major Burkett's words resonated with everyone in attendance.
Click here to read the complete biography of Major Richard "Trainwreck" Burkett, Jr.
Upon the conclusion of Major's Burkett's message, Sydney Lockley, National Honor Society Treasurer and Student Government Vice President, shared the history of the red poppy as members of National Honor Society and Peer Leadership passed out handmade poppies to each veteran in attendance.  NHS Senior Aviana DeLillo delivered a heartfelt message recognizing veterans, their impact on this nation, and their sacrifice.  NHS Senior Ashlyn Hayes also delivered a message recognizing veterans and the sacrifices that are not only made by the service members, but also the sacrifices endured by their families.  Ashlyn then presented a gift to her mother, Master Sergeant Elizabeth Matejka, who recently returned home from an extended deployment in Kuwait.
The appreciation program continued with Ronalyn Slagle, NHS Senior and Student Government Representative, delivering the history of "Taps."  National Honor Society Vice President Alayna DeCarbo then led a moment of silence before Ethan Tanyel played "Taps."  Aaralyn Nogay, National Honor Society Vice President, delivered the closing remarks as Carter Brooks provided the musical postlude.
Veterans and their family members were treated to casual reception with refreshments following the assembly.  It was wonderful to see our students and faculty members interacting with the veterans in attendance.
On behalf of everyone at Neshannock Township School District, we extend our sincere gratitude to National Honor Society (Mrs. DeVincentis) and Student Government (Miss Welker and Mrs. Hiler) for hosting such a wonderful appreciation program for our veterans.  We would also like to thank Mr. Viggiano, Mrs. Sheridan, Mr. Micsky, Peer Leadership, and the Community Art Club for their efforts to make this event so special.
We are forever grateful to all members of the Armed Forces — past and present — for their brave, selfless service to the United States of America.