Neshannock Township School District to Launch Online Learning Format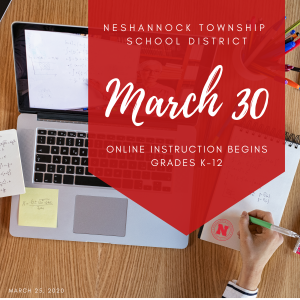 The District has been in the planning stages of providing off-campus instruction for all students, which has undoubtedly been an intense and ongoing process. We will soon embark on a new adventure into learning through Google Classroom.  All necessary learning materials will be provided online through the Google Classroom format.
Students will be receiving information about off-campus instruction through their school email accounts.  Instructional activities, via Google Classroom, are set to begin on Monday, March 30, 2020.  Parents and caregivers are encouraged to email teachers to ensure they have viable communication with each other.
Should you experience any difficulty with school-related technology, please contact our Technology Hotline at 724-901-1906.  If leaving a voicemail, please include your name, your student's name, and a phone number where you can be reached during regular school hours.
Our teachers and administrators have been vigilant in working with one another to prepare for this moment. We thank everyone for their patience and support as we prepare to deliver the level of instruction that our students have not only come to expect, but also deserve.
---
Update:  Effective March 30, 2020, Governor Wolf mandates the closing of all Pennsylvania schools until further notice. 
Neshannock Township School District is currently planning for online instruction to begin on Monday, March 30th.  Students will be notified of the plans by email. Please continue to closely monitor your email accounts and the District website for updates and information.
Information specific to Neshannock Township School District will continue to be forthcoming:
No instructional requirements were assigned to students during the initial ten day mandated closure (March 16-March 27, 2020).  Off campus instruction went into effect on Monday, March 30, 2020. 

All athletic facilities — indoor and outdoor — are closed until further notice. This closure includes all recreational and township athletic usage.

Grab & Go Lunch: Eligible students may pick up a free lunch on school days, beginning Tuesday, March 17th, during the mandated closure.

Lunches may be picked up at New Castle Jr./Sr. High School or Harry W. Lockley Early Learning Center from 11:30am – 12:00pm.

If you do not have transportation to one of the locations, please contact 724-714-1261 to make arrangements for lunch delivery.  Delivery requests must be made before 10:00am, Monday-Friday.

On March 19, 2020, The Pennsylvania Department of Education canceled all statewide testing for the 2019-2020 school year.  This cancellation includes PSSA, PASA, and Keystone Exams.

LCCTC Applications: https://static1.squarespace.com/…/LCCTC+2020-2021+APPLICATI…

Students who previously submitted a paper application should complete the online application and email it to Mrs. Morgan Lynch, at mdlynch@lcvt.tec.pa.us, to be ensure she has their applications during the mandated school closure.

Online Learning Resources

Click on the link above to explore a huge variety of free, online learning resources.

There are no instructional requirements assigned to students at this time until March 30; nonetheless, you and your student(s) may enjoy some of these sites.  For your convenience, the websites are categorized by grade level. 

Student Medication: Nurses will be available at both the elementary school and high school on Monday, March 16th, from 10:00am – 12:00pm, for parents wishing to pick up their child's medication(s).

The SAT scheduled for Saturday, March 14th is canceled.  We will share information as we learn of its rescheduling.

Lancerette clinic and tryouts scheduled for the week of March 23rd have been postponed until further notice.

The spring musical, Sweet Charity, is postponed until further notice.  Rehearsals are also postponed.

Neshannock Township Education Foundation's meeting scheduled for March 23rd is canceled.

Our Jr. High Choir was scheduled to sing at the 'Oneness' event on March 29th. That event has been postponed until the fall.

PTO's science night, Experiment, has been postponed until further notice.

PTO's fundraiser delivery scheduled for April may be delayed.
Please visit our website on a daily basis as news and information continues to come in at a rapid pace.
---
Commitment to Safety and Security
The mission of Neshannock Township School District is to provide every student the opportunity to develop and utilize their academic and social skills through an exemplary, rigorous educational experience in a safe and caring environment.  In addition to giving obvious attention to securing our facilities and being vigilant with all visitors on campus, NTSD remains committed to providing great attention to the health and well-being of our students and staff at all times.
District Preparations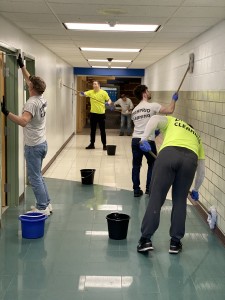 With the recent concerns over coronavirus (COVID-19), we have heightened our focus on maintaining sanitary procedures for classrooms, instructional equipment, buses, and all surfaces within our schools.  We are monitoring the situation closely and receive regular information from the Center for Disease Control and Prevention (CDC), the Pennsylvania Department of Education, and the Pennsylvania Department of Health regarding best practices.
The District has been using hospital grade disinfectant in our schools for the past several months.  In the coming extended weekend (March 13-16, 2020), the maintenance department will be sterilizing all school buses. In addition, we have contracted with an outside agency to sanitize the interior campus in its entirety this weekend.  We have added disinfectant stations throughout the schools and are looking to add these to all buses.  Our aggressive efforts will continue as our buildings and buses operate on a regular schedule.
Neshannock Township School District was recently featured on WTAE for being proactive by revamping cleaning methods and supplies prior to the heightened concerns surrounding COVID-19:
Precautions and Preventive Measures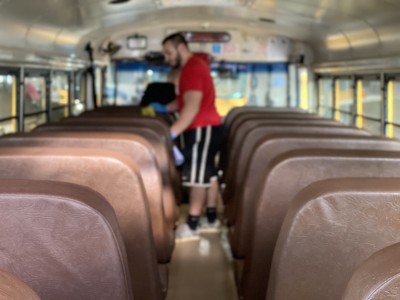 Parents and guardians must also play an important role in minimizing the potential spread of any virus, especially during this time of potential COVID-19 outbreak.  We strongly encourage parents to keep their child(ren) home if they display cold and/or flu symptoms.  To prevent the spread of COVID-19, the best defense is to follow the same precautions recommended by the CDC to prevent the spread of the cold and flu:
Wash your hands often with soap and water for at least 20 seconds, especially after going to the bathroom, before eating, and after blowing your nose, coughing, or sneezing.
If soap and water are not readily available, use an alcohol-based hand sanitizer with at least 60% alcohol. Always wash hands with soap and water if hands are visibly dirty.
Avoid touching your eyes, nose, and mouth with unwashed hands.
Avoid close contact with people who are sick.
Stay home when you are sick.
Cover your cough or sneeze with a tissue, then throw the tissue in the trash.  If a tissue is unavailable, cough or sneeze into your elbow.
Clean and disinfect frequently touched objects and surfaces using a regular household cleaning spray or wipe.
The CDC does not recommend the use of face masks as a way to prevent the virus' spread.
Guidance to Families Returning from International Travel

We ask that if any member of your household (adult or child) has traveled to any one of the travel-restricted countries in the past 14 days that you immediately contact your building principal to discuss any required safety protocols prior to returning your child to school.  

---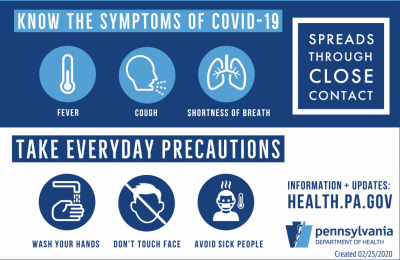 As we continue to monitor the situation closely, the focus of Neshannock Township School District continues to be on providing top notch education in a safe learning environment. Should you have any concerns regarding your child's health and safety, please contact your healthcare provider, school nurse and/or building principal. Thank you for helping to keep our schools and, most importantly, our students safe and healthy.
Please continue to regularly visit our website and social media pages — Facebook and Instagram — for any updates and information that may be forthcoming.  Maintaining a safe and healthy environment for our students, staff and all who enter our facilities remains of paramount importance.   It is critical that we all work together to eliminate the spread of any virus or infection.
We encourage you to visit the links below in order to be informed and educated:
Government Agencies: