Congratulations to our 2022 WPIAL Class 2A Champions!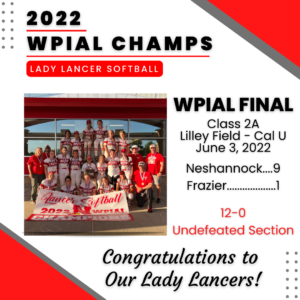 Our Lady Lancers secured WPIAL GOLD with their 9-1 victory over the Frazier Commodores on Friday, June 3 at Lilley Field – California University of Pennsylvania!  The Lady Lancers are led by Head Coach Jackie Lash and Assistant Coaches Jeff Shaffer, Don Nogay, Kit Lash, Jim Moats, and Laura Gibson.
Special thanks goes out to our Neshannock Township Supervisors, Police Department, and Volunteer Fire Department for welcoming our Lady Lancers home on Friday night!  With friends, family, and the entire Lancer Baseball team waiting for them, it was definitely a night they'll always remember!
We are so excited and incredibly proud of our student athletes and coaches!
---
PIAA Playoffs
Our Lady Lancers will kickoff their run in the PIAA playoffs on Monday, June 6.  They will take on Our Lady of the Sacred Heart High School (OLSH) at 2:00 pm on their home field.
Our Lancer Baseball team will kickoff their run in the PIAA playoffs on Monday, June 6.  They will take on West Middlesex High School, at 4:30 pm, at Slippery Rock University.
Tickets for all state games are only available for purchase online through PIAA.  Click here to purchase tickets.
---
PIAA Playoffs at Neshannock Township School District
NTSD will be hosting the first round of Class 1A, 2A, and 4A PIAA softball playoffs, as well as Class 1A baseball playoffs, on Monday, June 6.  For the convenience of all in attendance, our booster programs will be operating the concession stands for all games. Restrooms are also available at the baseball and softball fields.  While bleacher seating is available, spectators may also bring their own folding chairs.
Best wishes to all teams!